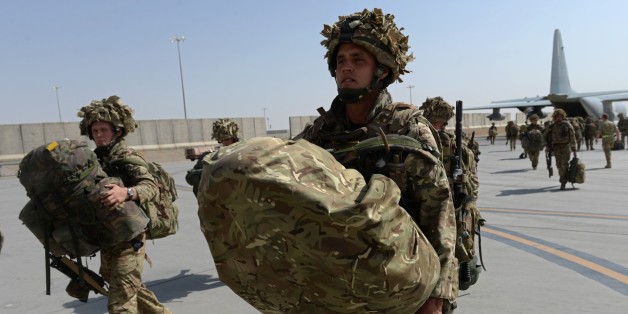 On Monday October 27th of 2014, the last remaining U.S. Marine and British forces pulled out of Helmand Province, Afghanistan. Officially marking the end to the 13-year war that I hope and pray history will eventually prove was worth the sacrifice that so many paid. It is all weighing heavy on my heart due to the fact that I am also ending my enlistment in the Marine Corps this February, as my last few months in the inactive reserve come to a close. It has caused me to look back and examine all that has come to pass, both during my time on active duty, and the almost four years now that I have been living as veteran trying to find my way beyond the battlefield. In 2007, all I wanted to do was serve my country and now almost eight years later I am still trying to find out what that exactly means.

The only way I can ever seem to describe it is to quote the Charles Dickens, "It was the best of times, it was the worst of times, it was the age of wisdom, it was the age of foolishness."
To a young 18-year-old, the Marine Corps not only seemed like the best option but it was also the only option. After I graduated high school in 2006, I made a deal with myself that I would try college. By February 2007, I found myself standing tall and in way over my head at Marine Corps Recruit Depot Parris Island, South Carolina beginning this new and exciting journey. When I enlisted I wanted to fight the enemy and be as close as possible to the front lines. In March of 2008, I got exactly what I wanted on my first deployment to Garmsir, Afghanistan. It was on that first deployment that I learned the price that came with going to war was far more than I had ever imagined.
Now that I had experienced what exactly war was and is I was content to never go again, because I had finally been able to prove myself on the battlefield. Trust me once is enough, but I still felt an almost addiction like drive that made me want it so much more. Our next deployment was going to be no longer than 90 days and our unit was instead going to mark the end of armed conflict in Iraq. A sense of relief I have never known before washed over me as this news was timed perfectly with that of my wife being pregnant for the second time.
It was short a short-lived feeling; I said goodbye to pregnant wife and daughter in December of 2009 as we left for Marjah, Afghanistan for the second time. My worst fear was that I would not see my wife, daughter and un-born child ever again; I hoped and prayed that I would, but the reality of war reminds you that no one is guaranteed another day. This time I felt somewhat prepared for what was to come, but I could not have been wrong. For the entire deployment I never really felt that we were in the driver's seat, but instead I felt we were the military equivalent of Icarus and we had flown way too close to the sun. The bonds that we forged in combat are stronger now than they ever were before. As I have now finally been able to make the long over due transition to the father and husband my family deserve my "military family" has only grown stronger, and my children are blessed with the most selfless war fighters that they now call their "Uncles."
I have and will always stand beside our mission, which was to remove the Taliban stranglehold that was destroying and enslaving the local population. The people of Afghanistan are a proud group and have been fighting since the creation of war itself. Now more so than ever I understand their palpable level of disbelief in our ability to change the place they called home. They had been through all of this before and experienced more than their fair share of false hope and empty promises, and they clearly knew how everything would play out in the end and that we would leave. I have been told that Operation Moshtrak has secured its place in history and even though the war is over, for so many the battle still ages on. I hope and pray that the Afghan National Army will be able to maintain what we have built, but I fear that this turnover will be the mirror image of the withdrawal from Iraq. History always provides truth in due time, but for now I fear the questions that are to come from my fellow Veterans.
"Why did men and women die for this?" "What was all of this for?" "Why did we even go there?" And, "Was any of it worth it?"
At the end of the day we can only do so much and no matter how Afghanistan ends up years from now I know that every man and woman who went overseas to fight for this cause made an incredible impact, put their life on the line for their country, and fought with everything they had. The only way I know how to honor the sacrifices paid by all of those who never came home, is by living a life that is worthy of that sacrifice, and by doing so we will ensure that their memory forever lives on.