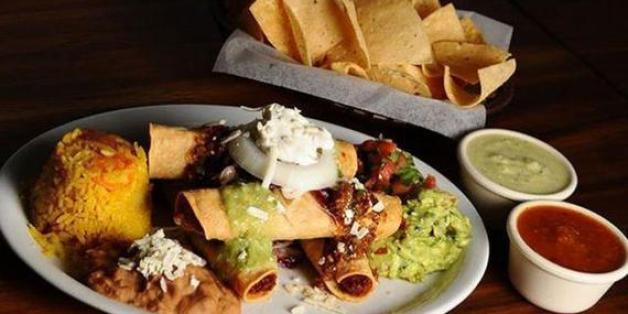 By Megan Giller
Yellow cheese. We wouldn't go as far as saying the word "Velveeta," but you get the idea. Now take that semi-dairy product and imagine every possible combination of it with corn tortillas, cumin, chile powder, beef and refried beans. That's Tex-Mex.
That makes it sound simple, but when both Tex-Mex and Mexican restaurants offer dishes like queso, enchiladas and fajitas, the menu can get a bit muddled. That's why we've put together this handy-dandy guide to the 10 dishes that define Texas cuisine at its most essential. So grab some Alka-Seltzer, sip on a frozen margarita and order one of these 10 monstrosities.
(A quick note: while hot places like Javelina in New York City tout a Tex-Mex menu, we're recommending the classic spots in the Lone Star State to get your fix.)
Cheese Enchiladas With Chile Con Carne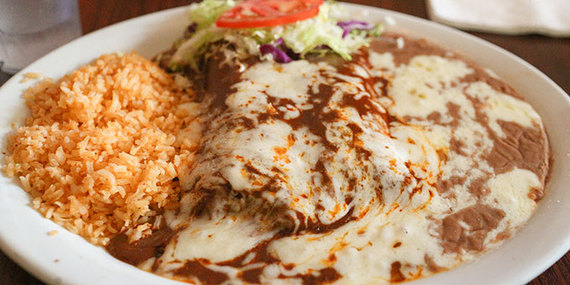 We're not sure what's more important here: the cheese or the chile con carne. Both play a crucial role in what we consider the most important Tex-Mex dish. Corn tortillas wrap around ooey-gooey yellow cheese and are doused with more than a healthy amount of chile con carne (basically ground beef stew with plenty of cumin and chile powder), then sprinkled with grated yellow cheese and chopped white onions. Usually served with a side of refried pinto beans (made with lard, of course) and Spanish rice, it's hard to tell if the grease puddles are coming from the cheese, the beans or your heart. (Photo by Flickr/Tito Perez)
Where to Try: Dart Bowl in Austin and Tupinamba in Dallas
Queso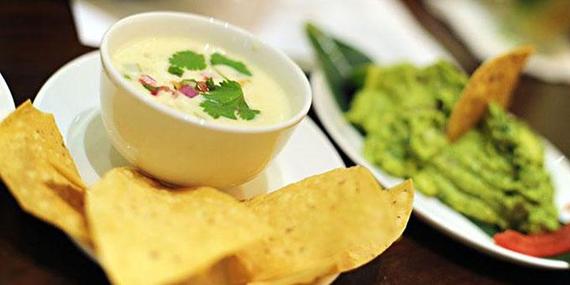 Queso means "cheese" in Spanish, but in Tex-Mex, it means a specific kind of cheese. You guessed it: the yellow variety. Here it's melted into drippy form and served in a bowl with tortilla chips for dipping, usually sided with salsa and sometimes with guacamole. At its most basic, queso can be Velveeta microwaved with Rotel tomatoes, but done right, it's an art form.
Where to Try: Matt's El Rancho in Austin and Mia's in Dallas
Puffy Tacos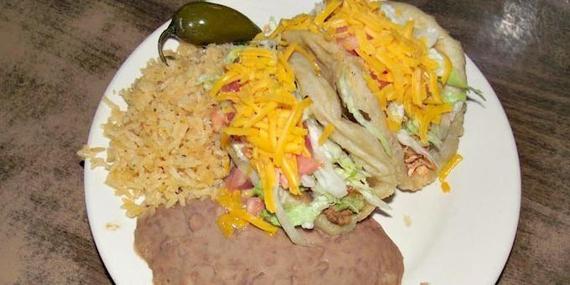 A San Antonio specialty, puffy tacos bring fluffiness (you might even say puffiness) to corn tortillas that are usually pretty flat. Made from masa that is deep-fried until air pockets form, they're filled with everything from ground beef to shredded chicken, with shredded lettuce, diced tomatoes, guacamole, cheese and salsa. Hold them like a taco and eat them delicately, as they tend to fall apart.
Where to Try: Ray's Drive Inn and Pete's Tako House, both in San Antonio
Flautas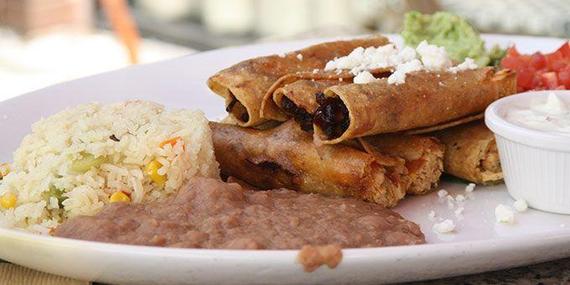 Think of flautas as enchiladas' fried cousin (served naked, they're sometimes called taquitos in the fast-food world). Beef, chicken or refried beans are wrapped tightly in corn tortillas, and then the entire piece is deep-fried into one crispy casing. A plate comes with at least three of these babies smothered in green or red sauce, queso, sour cream and guacamole, with rice and refried beans, of course.
Where to Try: Mattito's in Dallas and Matt's El Rancho in Austin
To find out more about essential Tex-Mex dishes, read the whole story on Zagat!
More from Zagat:
The 10 Best New Burgers Around the U.S.
The 30 Most Anticipated Restaurant Openings of Spring 2015
15 Foodie Day Trips to Take Around the Country