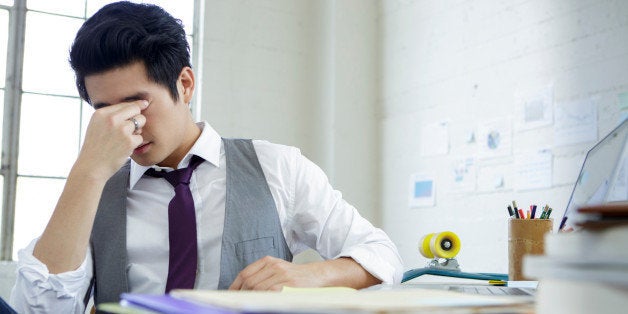 For years, I have thought about blogging, but I haven't written an actual post. I feel paralyzed by the vast amount of ideas in my mind. I've had many amazing life experiences that I'd like to share with the intent to inspire, entertain and connect with a larger community. I just couldn't bring myself to start.
You know that panicky feeling you get when you're about to do something new and exciting? I feel that right now, elevating the simple task of sharing my thoughts with you into something monumental.
I recently met Arianna Huffington as she promoted her new book Thrive. I told her that the Third Metric resonates with me and how I appreciated that she's bringing this idea to the mainstream through levity and actionable tasks. I said I'd like to contribute to the conversation via the Huffington Post and then... she actually invited me to do so.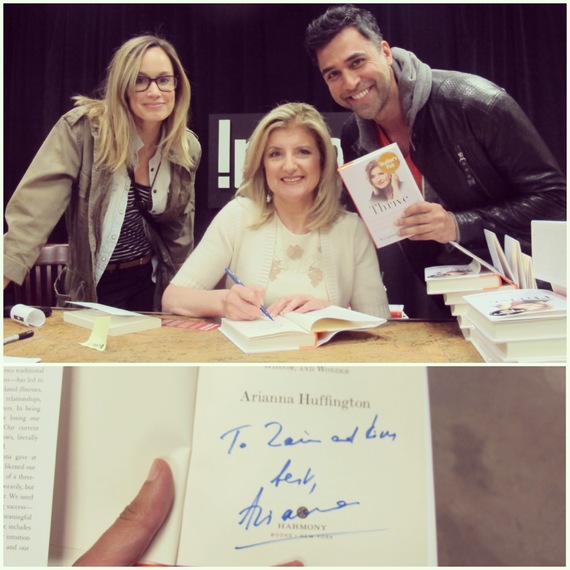 I thought, "Oh my goodness, I'm going to write for the Huffington Post. What do I write for the Huffington Post? Oh boy, it's my big debut, it's like I'm writing the Great American Novel, no, its like I'm dropping the single off my debut album so I'd better write 10 blog posts. No, I better write 160 blog posts then narrow it down to 14 and shoot 17 elaborate videos to support each post and release them in the middle of the night with no prior notice, all while simultaneously conducting a worldwide speaking tour in support of said blog posts."
Suddenly, I think I am Beyoncᅢᄅ... and I realize: I need to calm down.
So as you can infer, I'm prone to exaggerated overwhelm. I get so excited by the potential magnitude of an idea that I get lost in it. This is what usually stops me from starting anything.
There's the fear of failing: It won't work out or it won't matter. But, there's also the fear of success: I won't be able to sustain it or that I won't meet expectations. Which, I guess, really is the fear of impending and inevitable failure.
Then there's the fear of not doing the right thing: spending time, resources and dollars to maybe find out that it was a waste of effort or discovering it's not what I really wanted in the first place.
If you have had similar thoughts, then you know how exhausting it can be. I have wondered, what can be done about it? Here's what I came up with:
1. See the big picture
Take a moment, close your eyes and imagine the ideal you. Make a vision board from favorite magazine clippings. Journal it. Talk about the ideal you with a close friend.
See that ultimate vision in bold, glorious colour and larger than life. What do you want to accomplish in the near future and in the long term? Who are you with? How are you doing it? Where is it happening and when? Don't forget to answer the important question of why is this important to you? See it like it's in 3D IMAX! It's OK if a picture that big is a little blurry at the start.
2. Then, focus
Find clarity by breaking the big picture down into smaller details. All those little steps overwhelm me. There are just so many moving parts and variables to account for. It's literally painful for me to make specific decisions. So don't go it alone. Enroll people into the vision and process. I have weekly accountability meetings with my best friend. I am constantly strategizing possibilities with my brother. I meet with a mastermind group to bounce ideas around and hear a variety of opinions. Through this personal-focus group, I discover clear and actionable steps to make the big picture a reality.
3. Sustain or stop
It's easy to get overwhelmed by thinking that there is so much to take on and that we won't be able to handle it. Set achievable goals and set out to finish them. Remember, done is better than perfect. After that, move on to the next task. If you're fortunate enough for the reality of your vision to get too big for you to handle, get some support. People want to be a part of a winning team and would love to jump on your bandwagon. And if you end up going down a path that you don't actually enjoy, remember: Just because you started it, doesn't mean you can't stop it. As Arianna would say on her book tour, "One way to complete a project is to drop it."
In any case, I often hear, "Start before you're ready." I say, "Start, then get ready". As Michael Jackson sang, "If you want to be starting something, you got to be starting something."
I bet I'm not the only one who feels this way. I would love to hear your thoughts: What's stopping you? Let's start a conversation in the comments below.