The most disrespectful thing you can say to young people is, "you are the leaders of tomorrow." This creates a self-fulfilling prophecy where young people are stigmatized to believe that there is a minimum age for being capable of changing the world.
As of 2012, 100 million youth lacked access to educational opportunities and 75 million young people were unemployed. We have seen no significant change. But there is proof that it is time to invest in and enfranchise students.
Iqbal Masih helped to free 3,000 children from child labor after escaping it himself - he was shot dead in 1985 at only 12 years of age for doing so. More recently, Malala Yousafzai became a global advocate for girls' education and was nominated for a Nobel Peace Prize for her work at the age of 16. Mark Zuckerberg founded Facebook at the ripe age of 19. Jack Andraka invented an inexpensive sensor for the rapid and early detection of pancreatic cancer at the age of 15. Emma Axelrod and her high school peers were the catalysts for the first female U.S. Presidential Debate moderator.


Photo of Iqbal Masih by Anders Kristensson
The list goes on...
Too often these young world changers are dismissed as anomalies. Full disclosure: I am 20 years old, a student at the University of Maryland, College Park, and am the Founder and Executive Director of Student Voice. I have a stake in young people making a difference. We all do though! Imagine the lives that Jack can save, those that Malala has opened education access for, and Mark has connected. Actually, no need to imagine. They are doing this right now.
Too often I hear from adults how impressed they are with young changemakers. It certainly takes ability and a lot of dedication for change to be made. With that said, today young people have more access to opportunities for them to create change (thanks, Mark!).
Too often we send students to school and tell them that what they are learning will prepare them for college and a job. Why can't we apply what we learn now? There is no better learning experience than that of the real world.
Last week I attended Free the Children's flagship We Day event in California. The 16,000 students at this event were unable to purchase their own tickets, rather they earned them by serving their communities. Amongst those young people was a Microsoft Imagine Cup team from Uganda that reinvented the Ultrasound, so that more Ugandans would have access to this life saving resource. They were among 16,000! In one room. In one state. In the United States. Among nearly one billion in the world.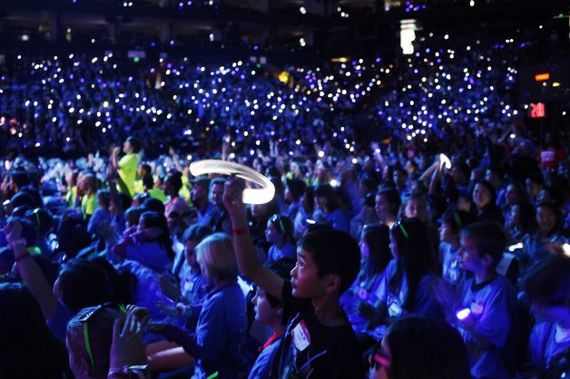 Photo: Pete Kiehart, The Chronicle
These attendees were already inspired, already doing things - but they got to rally together to celebrate it, and see that celebrities, older people, support, encourage, and believe in them.
It was uplifting and exciting to experience this energy, but at the same time, it also frustrated me. How those 16,000 students did not serve as enough of an example for why more corporations, governments, and communities need to be empowering students - our society's last disenfranchised demographic - should frustrate more of us. It should inspire us too.
How many lives do we need to save? How many transformative policies do we need to successfully advocate for? How many more world changing companies do we need to create? Let's eradicate the stigma of young people leading tomorrow's world. This is their world. Classrooms must allow them to own their personal learning experience. Communities must empower them to take part in designing their future. Policymakers have the duty to seek for voices from the voiceless.
Chelsea Clinton said at this year's CGI U, "We're the generation that has volunteered most in history -- even more than my parent's generation." The impact is evident. The opportunities are there for some. More opportunity, respect, and influence for all students is what we must strive for.
This is a civil rights issue. Join the aforementioned 16,000 students and you will be championing the civil rights issue of our generation - student enfranchisement. You do not want to be on the sidelines for this one.
Disclosure of Material Connection: Microsoft paid for my travel and hotel expenses so that I could cover this event. All thoughts and opinions are my own.