As far as gambles go, this property was a big one. The cavernous, multi-story warehouse in New York City's Meatpacking district would have been a hot commodity in any decade. But this was 1996 and gentrification had yet to start. If the buyers saw a space for quick profits, the agent -- Mazdack Rassi, saw something else: space for a creative revolution. To that end Rassi convinced his clients to build a photo studio in the warehouse and hire him as manager. Christened MILK, it quickly became just that: a land of milk and honey overflowing with luxurious amenities ensconced in crisp white spaces which fashion's elite soon found irresistible. From Calvin Klein to Chanel, Vogue to Vanity Fair, Patrick Demarchelier to Terry Richardson, fashion's finest flocked to MILK. In a relatively short time, one thing was clear: so far as gambles go, they had all won big.
By 2009, the Iran born, Chicago raised, New York based entrepreneur was ready to gamble again. This time, with MADE. Essentially functioning as an incubator for designers, MADE affords the opportunity to leverage MILK's extensive resources for projects and shows -- not least of which is the venue itself. The event was founded by Rassi, along with partners Jenné Lombardo and Keith Baptista, below, and brand partner -- M.A.C Cosmetics. MADE rapidly attracted an audience intrigued by the top-notch talent it showcased. "To us," remembers Rassi, "our designers were beyond fashion. They were filmmakers, architects, artists." They are now also hugely successful. Today, many MADE's alumn including Public School, Alexander Wang, Billy Reid and Joseph Altuzarra are veritable stars in the fashion orbit; while the event itself now rivals the iconic Mercedes-Benz Fashion Week.
Such success in less than five-year time is enough to earn some rest. But not for Rassi. Once again, the entrepreneur and his partners are ready to gamble. This time, with MADE Music. The new initiative is poised to do for musicians what MADE did for designers. "There hadn't been a revolution in that industry," says Rassi. "We decided to bring our foresight to it by going in and saying -- this could be done better." For Rassi, Lombardo and Baptista -- doing so meant engineering an alternative system centered less on driving process and more on driving creativity. "We had the feeling that labels weren't investing [properly] in their artists. Everything came down to the single. Everything had to be quick. Contracts were tough and punishing."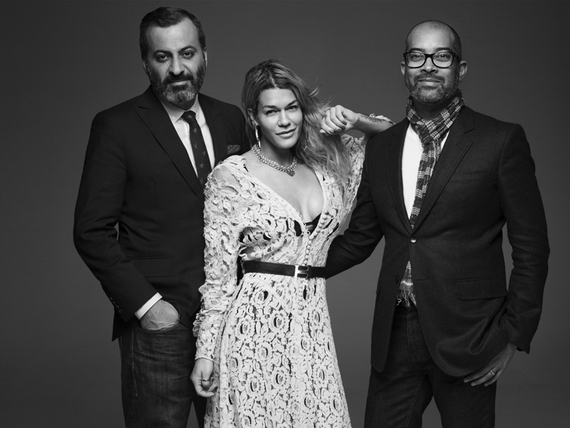 Rassi, left, with partners Jenné Lombardoand Keith Baptista.
Step one towards a solution was seeking out innovative pioneers in the space. Enter Lyor Cohen -- music industry icon -- who along with notables like music attorney, Michael Guido, guided the blueprint for MADE. "There's no doubt that we would have had a tremendous amount of mistakes if they hadn't been on board," says Rassi. Step two was creating an in-house A&R team -- field agents who are charged with discovering artists not just locally -- but globally. What happens after musicians are selected though is the stuff that MILK is MADE of: free-flowing, creative collaboration.
The lack of structure is intentional. "Our goal is not to interfere with their music or their process," explains Rassi. "We look at it as more of a collaboration where we treat every artist in the program as an individual and provide ala cart opportunities for them." From studio space for photo shoots to creative direction for album covers, the aim of the program is to take care of as much as possible so artists can focus on what matters most: the music.
For emerging artists, it's a priceless opportunity, which none-the-less translates into a hefty price tag. But as with MADE Fashion -- costs are not passed to the talent. American Express -- MADE Fashion Week's founding partner -- has returned as founding partner for MADE Music. They'll lead the pack of companies who will support artists, while leveraging the platform to promote their brands. "They want to learn new ways of speaking to this new generation of creators," says Rassi, "and we've learned how to help them do that without having to tax the artist. Not everything has to be about profit and losses."
Rassi's signature refrain bodes well for musicians and ultimately for MADE Music itself. Prioritizing the creative above commerce is a risky gamble for any venture. But as history shows, when Rassi plays -- he plays to win.
__________
Learn more about MADE Music Here.