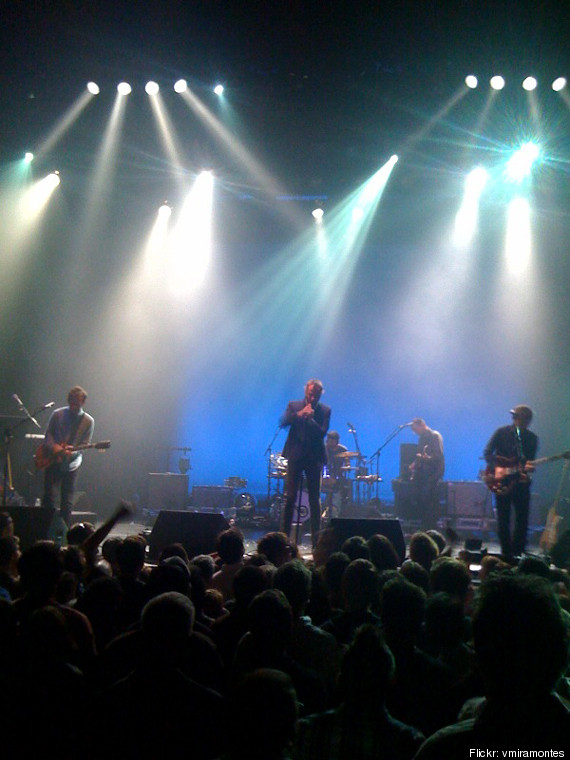 It's all pretty perfect when you see it live. Standing in Prospect Park on a midsummers night, the stage set high enough above the crowd so that even the leisurely picnickers in the back of the park could see from their blankets, and sound system turned up loud enough to reach the ticketless lingering on the lawns outside the bandshell. And they sounded good -- as good as the last time I saw them, and as good as they sounded in my headphones earlier in the day. The National are as professional and stately as a band can be.
Which is funny, because their songs are really the opposite -- they are melodramatic anthems of love and growing up and making it, and then, being unsure of it all. It's in an eerie and sober calmness that Matt Berninge sings, "I Am Afraid of Everyone" over and over, and that he convinces himself that, "Baby, we'll be fine".
The first five songs of the set were professional and well executed. Part way through "Squalor Victoria," the formerly poised Matt Berninger lost it, pulling at his hair and breaking from his steady baritone to wail, "SQUALOR VICTORIA, SQUALOR VICTORIA." It was the moment of rawness the night needed: all attention was on him. Those who had been quietly singing to themselves grew braver and what had sounded nice before began to carry the full weight of it's vulnerability, reminding us of exactly what makes The National so special. These guys have been doing this for a while now, and they sound great, but they haven't quite polished away what always felt so important about them.
They continued through their lengthy set, Berninger with his steady-then-spastic energy, picking evenly from their discography, with plenty from this summer's, High Violet, and even a song from 2003's slightly less hinged, Sad Songs For Dirty Lovers. There was sweet banter between the Dessner brothers, and a moment dedicated to the less fortunate Prospect Park dwellers before "Geese of Beverly Road."
These guys are hesitant, but professional rock stars. "We've realized now that Brooklyn is sort of our home more than Ohio," Berninger laughed from stage at one point, acknowledging their new lives, to which Aaron Dessner added, "He's going to get in trouble with his mom." Their mastery is undeniable, but it's their less measured steps, geese and moms be damned, that are the most fun to watch. There's a certainty to that sort of rawness, too.
Set List:
Runaway
Mistaken For Strangers
Anyone's Ghost
Bloodbuzz Ohio
Baby, We'll Be Fine
Slow Show
Squalor Victoria
Afraid of Everyone
Little Faith
Available
Conversation 16
Apartment Story
Geese of Beverly Road
Abel
Daughters of the Soho Riots
England
Fake Empire
Encore:
Sorrow
Secret Meeting
Mr. November
Terrible Love