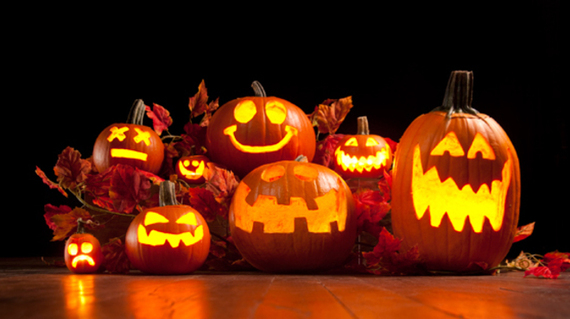 By Don Adkins, ZEALnyc Managing Editor, October 28, 2016
It's that time of year again. Halloween has become a huge holiday, at least here in NYC. On Monday New York City will host the 43rd annual Halloween Parade, which has grown substantially over the years from what was basically a neighborhood affair, to a full-fledged "parade" with floats and marching bands--it's even broadcast on NY1! More and more front yards and brownstone stoops boast seasonal displays to borderline haunted houses (or yards) when space permits. In keeping with the ghoulish holiday spirit, we at ZEALnyc wanted to let you know some of your options for celebrating this year. Read more below--if you dare!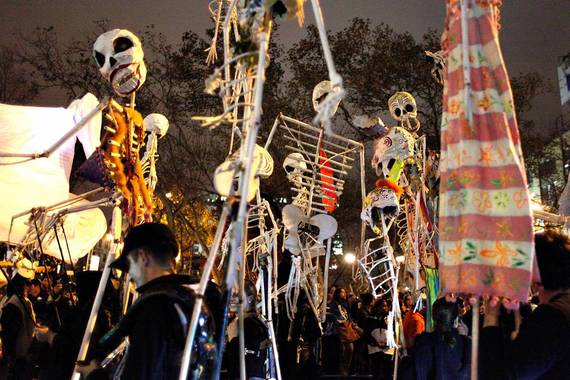 New York City Annual Halloween Parade
On October 31st 50,000 ghouls will parade up Sixth Avenue--donned in some of the city's scariest, most inventive and most hilarious costumes (there are sure to be some politically-themed ones in honor of the upcoming election), along with numerous live bands complementing the revelry. Show up with a creative costume of your own and join the parade (note: a costume is required to march), or be a "spooktator" and enjoy the spectacle from the sidelines. Marchers line up on Sixth Avenue between Canal and Spring Streets. The parade gets rolling at 7pm and heads north up Sixth Avenue to 16th Street. For more info on watching or participating, visit halloween-nyc.com.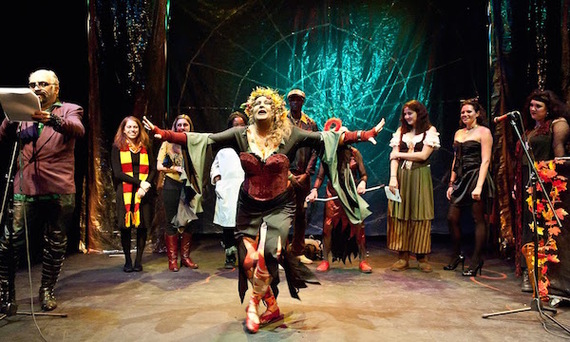 Theater for the New City's 40th Annual Halloween Costume Ball
Nonstop theater, a costume competition and ballroom dancing will bewitch the East Village in Theater for the New City's 40th annual Village Halloween Costume Ball on Monday, October 31 at TNC, 155 First Avenue. This unique festival continues as a grand coming-together for real witches, everyday New Yorkers and artists alike. The one-night fiesta takes over all four of TNC's theater spaces, plus its lobby and the block of East Tenth Street between First and Second Avenues. Customarily over 1,500 wildly-clad celebrants gather for dancing, dining, showing off costumes and viewing acts from the cutting-edge of Cabaret and Theater. Admission is $20; costume or formal wear is required. Once inside, everything is free except food and drink, which are graveyard dirt-cheap. Info/ticketing: theaterforthenewcity.net.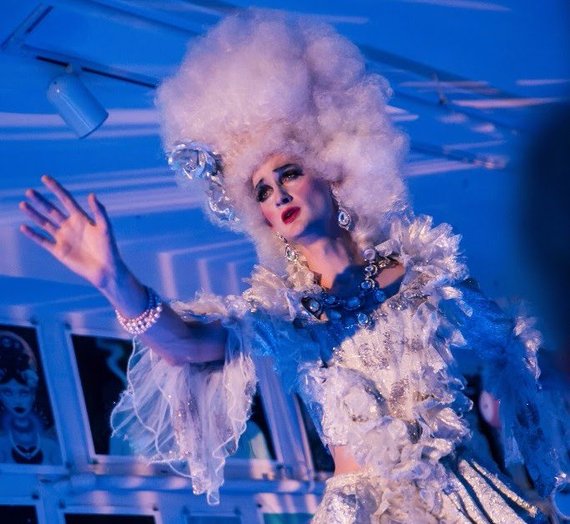 Heartbeat Opera's Drag Extravaganza
'Queens of the Night: Mozart in Space'
Heartbeat Opera--the daring young company whose unconventional orchestrations and stagings of classic operas have been called "a radical endeavor" by Alex Ross in The New Yorker--launches its third season on October 31, 2016 at the new music venue National Sawdust with Heartbeat's Annual Benefit Drag Extravaganza, this year titled Queens of the Night: Mozart in Space. Two performances take place at 7:00 p.m. and 10:00 p.m.
Co-Artistic Directors Ethan Heard and Louisa Proske and Co-Music Directors Daniel Schlosberg and Jacob Ashworth, graduates of the Yale School of Drama and Yale School of Music, will create an hour-long show combining Mozart's most beloved music, taking the audience on an adventure through the galaxy with their signature blend of eye-popping spectacle, gender-bending mischief, and musical mastery. Audiences can expect drinks, raffle prizes, a costume contest, and outrageous encounters with aliens, astronauts, and the cosmic Queen of the Night. For more info: heartbeatopera.org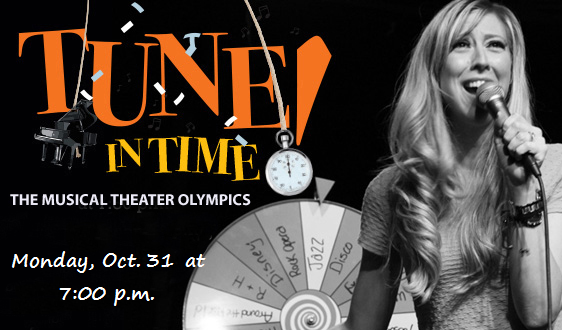 Halloween Edition of York Theater's 'Tune in Time' Game Show
Tune in Time launches in October with an installment that celebrates the horror musical genre, featuring a panel of judges from spooky musicals like Bat Boy, Little Shop of Horrors, and all things vampire. Songwriters include three returning players--champion Landon Braverman (Queen of the West), his writing partner Derek P. Hassler (The White Rose), and Jimmy Fisher (Lasagna Mañana), with newcomers Gretchen Midgley (Wendy), Erin Murray Quinlan (Hemingway's Wife), and Meghan Rose (HELD, A Musical Fantasy). Two-time Tune in Time player Clare Cooper subs as Music Director. The eerie judges' panel will include Lee Wilkof (the original "Seymour" in Little Shop of Horrors) and two other scary judges to be announced. Bring your best costume--or your worst!--and join the freaky fun on Monday, October 31, 2016 at 7:00 p.m; tickets are $20. For more info: yorktheatre.org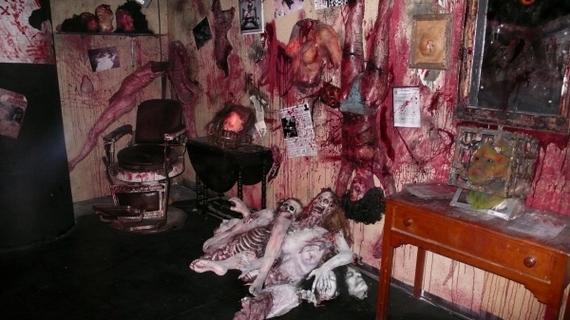 Blood Manor, NYC's Premiere Haunted Attraction
If it takes more than a few cobwebs and creaking boards to send a chill down your spine, then you should investigate Blood Manor. It has taken the "haunted house" concept and elevated it to an art form. So if you think you're up for it, check it out (at your own risk!). For more info: bloodmanor.com
RISE of the Jack O'Lanterns
To help celebrate the 50th Anniversary of "It's The Great Pumpkin, Charlie Brown" you might want to check out what is probably the largest and most extensive display of carved pumpkins imaginable. The organization has branched out and has locations in New York, New Jersey, Boston and Los Angeles. They are partnering with Disney for the third year in a row to also create some of the iconic Disney images in pumpkins (the pictures of Finding Dory pumpkins are amazing!). For more info: therise.org.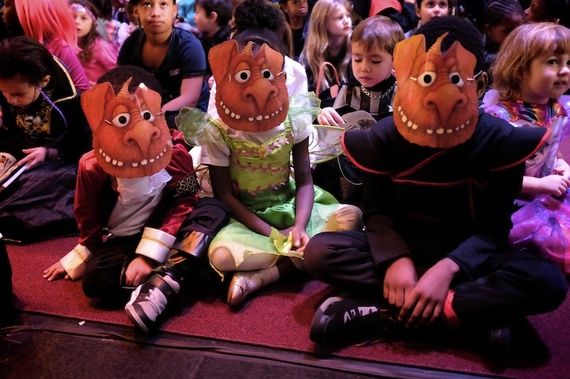 Lincoln Center's Annual Kids Trick-or-Treat Event
If you're looking for an event for your 'smaller goblins,' Lincoln Center once again welcomes costumed kids and families for a festive Halloween celebration. Hosted by the LC Kids program, the all-ages event will feature trick-or-treating around the cultural campus, a parade to live music, a haunted scavenger hunt, a David Bowie tribute concert and dance party, and a number of additional free activities to delight all ages. Last year's inaugural Trick-or-Treat event welcomed more than 10,000 people to Lincoln Center, marking it as a destination for families and children of all ages to celebrate Halloween--featuring a costume parade, activities, a scavenger "haunt," performances, storytime, and more. This FREE event takes place on Saturday, October 29, 2016 at 11:00 am. For more info click here.
__________________________________
Don Adkins, ZEALnyc's Managing Editor writes on arts, cultural and lifestyle events.
More from ZEALnyc below:
Halloween Costume Challenged? Here are a few budget-conscious ideas...
If the 'rat race' is getting to you, then why not run one--of the 'marathon' kind
Review: 'Puffs' Leaves Muggles Laughing In Their Seats
For all the news on New York City arts and culture, visit ZEALnyc Front Page.