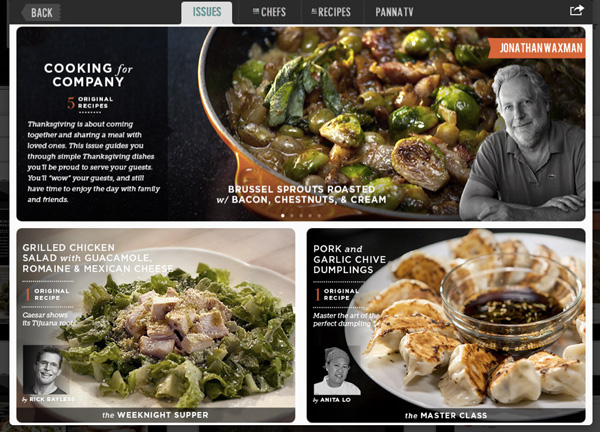 By David Ellner
I was trying to make a tart aux pommes (apple tart.) I followed the instructions in my cookbook and the final product tasted and looked delicious. But when I placed my finished dish beside the picture in the cookbook, it didn't quite match up, which made me think: Was my dish made the way the chef intended? If the chef was here, would he or she have guided me differently?
A seed was planted. I wanted to transform the way people follow recipes. I came up with an idea that marries technology with the passion and skill that collaborate in the creation of master recipes. [aside] My recently debuted video recipe app, Panna, is the first video cooking magazine for mobile devices. Each issue includes 13 recipes "performed" by some of the country's finest chefs -- Rick Bayless, Nancy Silverton, Jonathan Waxman and Anita Lo among them. They cook through entire recipes on camera, so users can follow along and create the dishes exactly the same way in their own kitchen.
Related: A review of the digital version of "The Professional Chef"
Here's the crazy part: I was a guy from the music business without a single contact in the food industry, and zero cooking experience aside from my own kitchen. There's something to be said for determination.
When Top Chef Masters winner Rick Bayless, founder of Chicago's Frontera Grill and award-winning Topolobampo, agreed to cook for us, I devoted my heart and soul to getting it right. I tried every recipe we were going to shoot in my own kitchen before we got to the set. To my family's initial enjoyment -- and ultimate dismay -- I cooked Mexican food for three weeks.
Related: Cookbook techniques that inspire from Michael Ruhlman

And I ruined more than half the recipes. Enchiladas are messy, I misread several steps, and making a mole is just plain hard. No matter that I was determined, I couldn't seem to get the results I wanted. But after we shot our segment with Rick, I remade some of those recipes by following the video, and they were perfect. Being able to watch exactly how Bayless executed his recipes changed and refined the way I cook.
I remember the set being silent. It was nearing the end of a 14-hour shooting day and Rick was preparing his last recipe, potato-chorizo tacos. He began blending tomatillos. I watched them change color and texture, and then he stopped the blender, opened it and paused. His eyes closed and he inhaled deeply, smiling as he took in the aroma.
Related: Sorting out the best of cooking apps and e-books


Chefs like Rick are present. They use all of their senses: listening for when something is done; smelling when it's time for the next step.
They recognize nanomoments that call for the next decision, fleeting interludes that novices like me are likely to miss.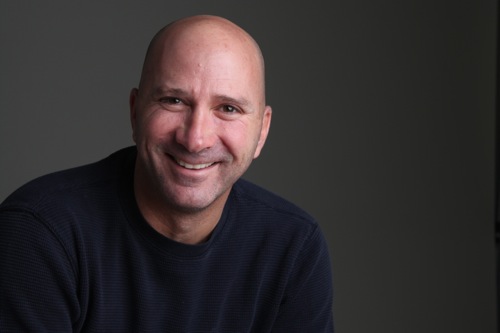 These chefs have an innate respect and appreciation for ingredients and what they can become.
It's inspiring to watch chefs like Rick, Nancy, Jonathan and Anita in their element. They're like musicians. A guitar is replaced with a knife, sheet music with raw ingredients, and harmony with a final dish -- an outcome of labor, love and inspiration. Reading their recipes can give a home cook incentive, but watching professional chefs in action gives a novice another dimension of inspiration. More practically, it provides the tools necessary to make an enchilada that looks, and tastes, like a Master's enchilada.
Photos from top:
Screenshot from panna.org
David Ellner. Credit: Danny Sanchez
Zester Daily Soapbox contributor David Ellner is the creator of panna, a mobile video recipe app. He was previously the president of digital and business development for 19 Entertainment (home of "American Idol") and worked for many years in the music industry. He has been an adjunct professor at New York University and the University of Bologna since 2000.
More from Zester Daily:

» The pros and cons of iGrill for the impatient barbecue lover.

» "Greens Cookbook" author Deborah Madison explains why plant families matter.

» 5 Great Mediterranean dishes from cookbook author Clifford A. Wright.
» A recipe for Dad's butter tarts offers a secret to the Canadian tradition.