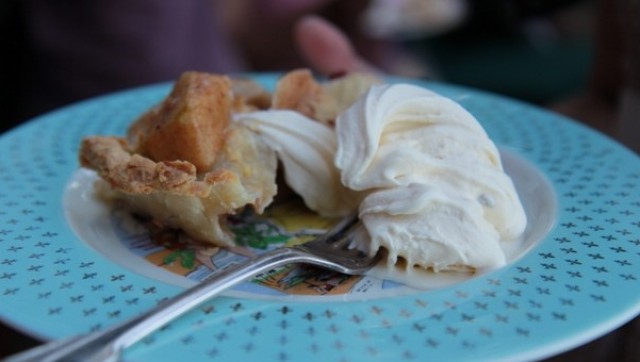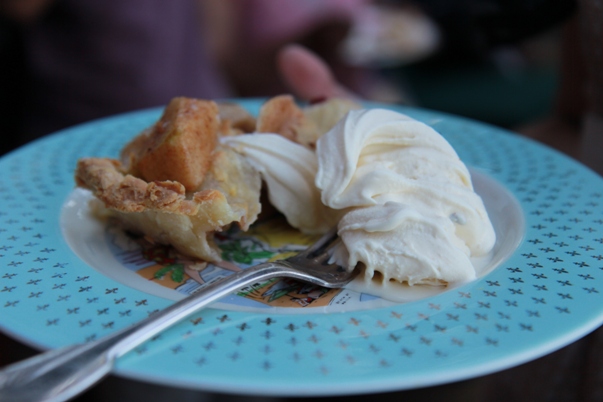 By Laura Holmes Haddad
Writer Joyce Maynard's philosophy is that pie brings people together.
Pie certainly brought people together Sept. 30 when more than 15 women and a couple of men gathered at Maynard's Marin County, Calif., home to learn how to make pie and raise money for President Barack Obama's re-election campaign.
What Maynard dubbed "Dough for Obama" broke down into two groups -- pie makers and eaters -- and each group donated to the campaign to spend an unusually warm autumn afternoon making pies, eating pies and talking politics.
Gathering around Maynard's worn wooden table, guests absorbed her step-by-step instructions on how to make her famous apple pie and then tried their hand at it. Women ranging in age from their 30s to their 70s (and who are artists, writers, photographers, health care workers and a police detective) discussed what brought them together: their political passion, Maynard and their love of pie. For some, it was the first pie they had ever made, and the lure of a hands-on instruction was irresistible.
Related: The economics of food: What does it mean for ethically conscious consumers?
This wasn't Maynard's first pie party. The parties started in 2000 after Maynard donated a pie-making lesson to her school's auction. The $2,000 winning bid from Oracle CEO Larry Ellison, who bought it for his wife, attracted the attention of the local paper. When a journalist asked Maynard whether she was planning any more pie parties, she replied, "I'm baking to defeat Bush."
She then promptly planned a party to raise money for Vice President Al Gore's presidential campaign. Since that day, she has taught more than 1,000 people how to make pie while raising money for Gore, Sen. John Kerry and Obama. She also has hosted a daylong baking marathon to benefit victims of the 2010 Haitian earthquake.
Related: Do bad politics thwart good olive oil?
Maynard's love of pie is bittersweet. Her mother always told her, "If I ever get a brain tumor I won't count calories." In 1989, doctors diagnosed Maynard's mother with a brain tumor and gave her only weeks to live, so Maynard moved in with her and baked for her mom and her friends.
"Making pie was a comfort to me," she said.
After her mother passed away and Maynard planned her first Thanksgiving without her kids and ex-husband, she invited friends over to learn how to make pie. Her role as pie-making guru had begun.
The pie lesson that September afternoon was sprinkled with stories and reassuring tips. Maynard's demonstration was straightforward:
• To make the filling, use tart, firm apples like Granny Smith, never red delicious.
• Do not add too much sugar (Maynard uses only a couple of tablespoons).
• Cut the apples into fairly large pieces.
• To make the perfect crust use an even mix of shortening and butter.
Maynard loves talking pie. Ever wonder about those airy pies with huge domed tops that look like applesauce when you cut into them? The apples are cut too small. ("I believe in a nice, high pie," she says.) Her secret pie ingredient? Tapioca. Sprinkle it on the bottom crust before the apples are added to prevent a soggy crust. And she recommends a glass pie dish because it distributes heat more evenly and you can see when the crust is done.
Related: Food and war in Baghdad, a correspondent's view

Her teaching is kind, patient and encouraging to first-time bakers and experienced ones. When transferring the top crust from the parchment paper to the pie Maynard said, "Now is moment that requires dive-in courage."
Maynard's philosophy puts less emphasis on looks and more on taste. "Mine is not a pretty pie; you can tell it's made by hand," she said.
Singer Linda Ronstadt, an avid baker and friend of Maynard's, surprised everyone by joining the party. Her advice? "Make a pie every day for a week to practice."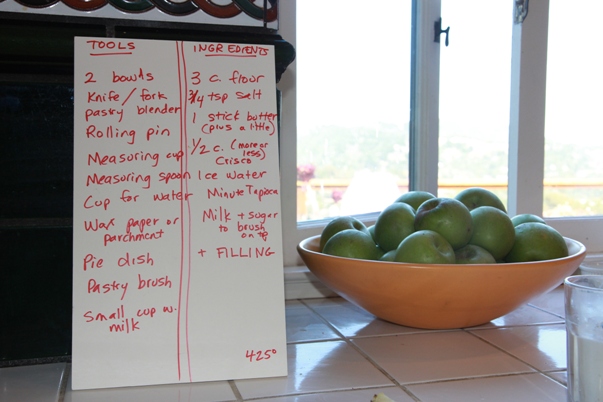 Joyce Maynard's Apple Pie
Joyce likes to say, "It's not about the recipe; it's how you make the pie." Although she doesn't use a set recipe, I used her measurements and my notes from the party to create this recipe. This is an adaptation, but it's the closest thing to being in the kitchen with her!
Makes two 9-inch pie crusts
For the filling:
5-6 crisp apples, such as Granny Smith or Gravenstein
sugar, to taste
cinnamon, to taste (about ½ teaspoon)
1 teaspoon freshly squeezed lemon juice (optional)
2-3 tablespoons instant tapioca
For the crust:
3 cups all-purpose flour
¾ teaspoon salt
1 stick cold unsalted butter (plus a little)
½ cup cold shortening (Joyce uses Crisco brand)
1-4 tablespoons ice water
3 tablespoons milk
Directions
1. Peel the apples and cut them in medium-sized, fat slices.
2. In a mixing bowl combine the apples with the lemon juice (if using), a handful of sugar (depending on how sweet you like it) and a sprinkling of cinnamon. (If you're not sure if you have enough apple slices, pour them in the pie dish; add more apples if necessary to make a nice, high pie.) Set aside.
3. Before you make the crust, assemble everything you need because once you start you want to work quickly to keep the dough as cold as possible. In a large mixing bowl combine the flour and salt.
4. Cut the butter and shortening into pieces.
5. Add the butter and shortening and using a pastry blender or two forks cut it into the flour until you see little pellets of butter and shortening.
6. Making a well, add 1 tablespoon of ice water and gently mix it in with half the flour using your fingers. (You will make the top crust first.) If the dough seems dry add 1 more tablespoon ice water. The dough should come together but not be too moist or too ragged.
7. Once it sticks together transfer the dough to a parchment or waxed paper-lined counter-top or table. Lightly flour a rolling pin and roll the crust into about ¼-inch thick circle. If it sticks, add a light dusting of flour. You want to handle the dough as little as possible and work quickly to prevent the butter and shortening from melting; that makes a tougher dough. Place the pie pan over the crust and gently flip it over into the pie dish.
8. Press the dough into the pan and cut off any overhanging dough.
9. Sprinkle the bottom crust with tapioca. Set aside while you make the top crust. (If it's a hot day it's best to stick it in the refrigerator.)
10. Make the second crust: Add a tablespoon of ice water to remaining flour mixture and gently mix it together until a dough forms, adding more ice water as needed, a tablespoon at a time. Transfer the dough to a parchment or waxed paper-lined counter-top or table and repeat the rolling process listed above.
11. To assemble the pie: Add the apple mixture to the pie dish. In one swift motion carefully flip the bottom crust over the top of the apples. If your aim is off, don't worry; just adjust the crust and patch any tears or holes. Crimp the edges of the two crusts, sealing them. Using a pastry brush, brush the top of the pie with a little milk and sprinkle with a little sugar. With a sharp knife cut four slits in the top crust to allow steam to escape.
12. Bake the pie at 425 F for 50 to 60 minutes until golden brown and bubbling.
Photo: Apple pie from Joyce Maynard's "Dough for Obama" event. Credit: Laura Holmes Haddad
Zester Daily contributor Laura Holmes Haddad lives with her husband, daughter and son in Northern California, where she writes about wine and food and runs her website, gourmetgrrl.com. Her latest collaboration is "Plats du Jour: A Journey Through the Seasons in Wine Country" with the girl & the fig restaurant in Sonoma, Calif., released in November 2011.

Also on Zester Daily:
What's the dirty side of mushroom hunting?
Mexico City: How old Colonia Roma has become the dining hot spot
Cocktail hour: A martini recipe shows off organic vodka with a touch of basil