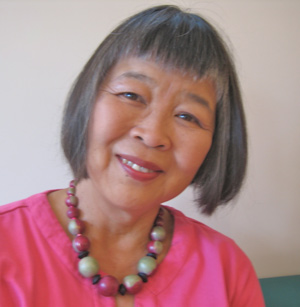 By Linda Lau Anusasananan

I grew up in a small town in Northern California called Paradise, where my father opened the first Chinese restaurant. My maternal grandmother, whom we called Popo, the Chinese word for grandmother, came to live with us a few years later.
"You should be proud you are Hakka," Popo told my brother and me.
As the only children of color in our school, we had little interest in learning about being more Chinese, we just wanted to fit in. But Popo persisted. After school, she tried to teach us how to speak Hakka and write Chinese characters in her kitchen. Then she'd often cook dinner for us -- stir-fried vegetables from her garden, homemade chicken soup, steamed eggs, or sometimes our favorite dish, an aromatic stew of braised Chinese bacon and potatoes.
Related: How the "Hakka Cookbook" connects with Chinese soul food.

More than five decades later, I had forgotten most of the Chinese, but her words echoed in my mind. I had recently left Sunset magazine where I wrote food stories for more than 34 years. Now I had time to research what she meant when she said, "You should be proud you are Hakka." I would do it through what I knew best, food. Popo had passed away decades ago, and so had my parents. It was too late to ask them questions. I wish I could have asked Popo how she came to America. How she cooked the bacon and potato stew that my brother and I still remember today. But I would have to figure it out myself.
Related: How China's tea traditions are evolving.

I turned to a Hakka friend who lived nearby. We spent many sessions in the kitchen. She cooked and I took notes and photos. Smells and flavors from my childhood came back as I tasted some of her dishes. I decided to expand my scope and follow the footsteps of the Hakka diaspora.
I visited some areas where there were Hakka settlements such as Singapore, Kuala Lumpur, Toronto and Lima, Peru. There I watched grandmothers, grandfathers and aunts demonstrate their Hakka specialties. In my cooking sessions, a younger relative often came along to translate. Over and over, the younger generation said they didn't know how to prepare these dishes. The Hakka cuisine was getting lost through intermarriage and assimilation. I realized I was recording recipes to pass on to the next generation.
Related: Why family meals aren't just about food.

You don't need to be a professional writer to record your own family history and recipes. Just spend some time with the person who cooks your favorite dishes. The standard bearers of your family's culinary heritage won't be around forever. Don't wait too long, as I did. Do it now.
The easiest way to learn a recipe is to watch while the dish is being cooked. Simply observe, take notes, ask questions, taste and take photos. Or better yet, record a video. If needed, ask your mentor to slow down, use measuring cups, or a timer. Record the names and amounts of the ingredients. Translate your notes into legible directions and try cooking your recipe, optimally with your mentor at your side. Fine-tune the recipe and write in all the corrections. Final test, follow your written recipe to see whether the words can produce a dish that meets with the approval of your mentor. Repeat the exercise, and you'll soon have enough recipes for your own family cookbook.
The recipes will be a legacy to pass on. You will honor your mentor with this shared experience.
Top photo: Linda Lau Anusasananan.
Zester Daily Soapbox contributor Linda Lau Anusasananan, a recipe editor and food writer at Sunset Magazine for 34 years, is the author of "The Hakka Cookbook." She has served as a consultant on many of its cookbooks, including "Sunset Chinese," "Sunset Oriental," "Sunset Wok," "Sunset Seafood" and "Sunset Pasta" and was president of the Association of Chinese Cooking Teachers.
More on Zester Daily:

» How Parisians do King cakes.

» What makes concrete egg-shaped tanks better for winemaking?
» The Upper King district's restaurants give Charleston a new spin.