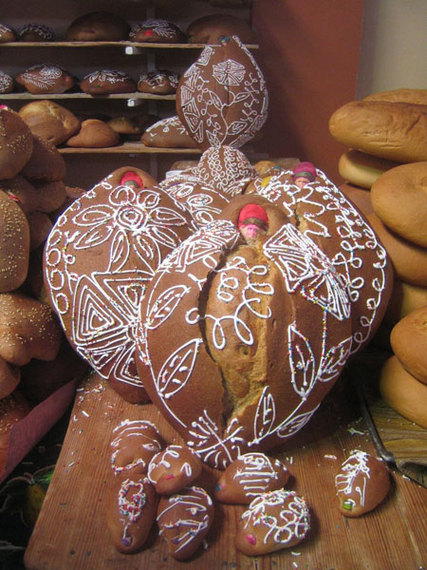 By Nancy Zaslavsky
Zester Daily

Modern Mexican Day of the Dead festivities stem from indigenous religions intertwined with Spanish colonial Catholicism. Dia de los Muertos is one of Mexico's most beloved holidays, where traditions run deep in pueblos of the southern state of Oaxaca as they reflect ancient Zapotec and Mistec cultures.
Families plan for the celebration weeks, even months, in advance. Anticipation mounts while bank accounts get stressed as people buy hundreds of specialty candles, fancy sugar skulls, incense and burners, and sheets of brightly colored tissue paper with cutout designs to embellish homes, grave sites and altars. Loyal patrons swarm their favorite bakers like locusts far in advance with huge holiday bread orders. Kilos of cacao beans, sugar, cinnamon and almonds are stone ground, dried and then formed into discs for drinking chocolate and Oaxaca's famous mole.
Related: Mezcal, not tequila? A fresh take on Mexico dining

When great grandma's treasured tablecloth finally gets unfolded, meticulously ironed and then draped over a simple table to metamorphose into a home altar, the magic begins. Similar in spirit to decorating a Christmas tree, convention rules in most homes a few nights prior to Oct. 31 as everything from heirloom candlesticks to beloved kitschy knick-knack skeletons get pulled out of storage to be placed here and there by excited children.
A tall arch made from 10-foot sugarcane stalks slides into position behind the table and is smothered with flower garlands. Intensely yellow fruits are arranged in precise position on the cloth. Bread may be next, but not just any old bread. Egg breads similar to challah but elaborately decorated with dough bones, skulls, icing and tiny saint faces painted on flour and water paste and dried, are called pan de muertos, bread of the dead, and are specifically destined as altar offerings and not to be eaten.
In fact, altar foods -- whether brightly colored fruits, bottles of beer or mezcal, chocolate disks, prepared bowls of mole, and other favorite foods of the dead -- are rarely consumed by mere mortals. These foods are oblations for dead souls returning during the holiday to check on the family, and after long journeys their spirits must be starved. It is widely acknowledged that altar items become flavorless after angels indulge in the abundant display. Finally, cherished photos of beloved deceased round out altar decor and candles are lighted.
Related: Holiday tamales: A mail-order review
Thoughts change gears from altars to grave sites Oct. 31 through Nov. 2 as relatives crowd into cemeteries to clean and decorate graves, especially those of children on the 31st. On the 2nd, deceased adult graves are once again embellished with fresh candles, armloads of fluorescent orange marigolds, magenta cock's combs and teeny white and gold wild field flowers.
Candlelight and Day-Glo colors guide souls back to exactly the right spot. Families often spend both nights graveside among hundreds of candles, where a smoky scene transforms to surreal as copal sap frankincense wafts through inky midnight air. Fires are lighted in huge metal drums to provide warmth, additional light and yet more smoke. Later, middle-of-the-night cemetery picnics are common -- mesquite blazes provide fuel for feasts of grilled meats, vegetables, tortillas and hot chocolate.
Elaborate, creative sand paintings are also popular grave art. Huge examples are meticulously executed by church and school groups around town and on cemetery grounds, where they are judged and awarded prizes. From classic saint depictions to contemporary relief images of skeletons, many take days to make and are often here at dusk, gone tomorrow like a whisper of copal smoke in the night.
At sunrise, everyone staggers off to church before heading home for a quick nap. Families will soon begin to visit one another's altars with bread offerings. Some callers bring flowers or a candle, but everyone places something on the altar of each house visited. Holiday foods of turkey in black mole, tamales and hot chocolate make their way onto a buffet table for visitors to enjoy as they travel from house to house. The scene is festive, with music, mezcal and reminisces of good times with departed loved ones. This is Oaxaca's Day of the Dead, as it was hundreds of years ago and as it remains today.
Mexican Hot Chocolate
Mexican hot chocolate is a rustic drink made with water (or milk) and retains an earthy, coarse texture from being stone ground.
Makes 1 quart (4 to 6 servings)
Ingredients

1 quart water (or regular, low-fat or nonfat milk)
1½ cups Oaxacan, Mexican or Mexican-style chocolate (such as TAZA, Ibarra or La Abuelita), coarsely chopped (about 4 disks)
Directions
1. Warm one cup of the water (or milk) with all the chocolate in a deep saucepan over medium heat, stirring, to melt the chocolate.
2. Pour in the remaining liquid, stir, and bring the water to a boil (or the milk to a simmer).
3. Remove the saucepan from the heat. Beat the hot chocolate in the deep saucepan with a whisk, hand mixer, electric hand mixer or emulsion blender until the top is covered with lots of bubbles or, best, with a thick foam.
Ladle into cups and serve immediately.
Or, pour the chocolate into a jarro de barro (a Mexican clay pot with a bulbous bottom and narrow top to keep chocolate from splashing out) and beat the liquid vigorously with a molinillo (Mexican hand-carved wooden chocolate foamer). Pour directly into cups with some foam in each cup.
Traditional flavor variations: Add ground canela (Mexican, or pure Ceylon, cinnamon), Mexican vanilla, powdered almonds or ground chile powder to the chocolate along with the cup of water or milk.
Photo: Day of the Dead bread. Credit: Nancy Zaslavsky
Zester Daily contributor Nancy Zaslavsky is an author, cooking teacher and culinary tour leader specializing in the foods of Mexico. She wrote the James Beard Award-nominated "A Cook's Tour of Mexico" and "Meatless Mexican Home Cooking."