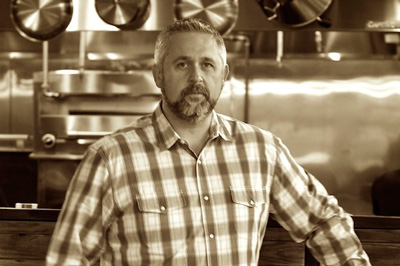 By John Gorham
It started on Facebook. One day my newsfeed was filled with chefs and bartenders asking for votes. It was the end of the year, and one of the food blogs had just posted a raft of entreaties to "Vote for your favorite new restaurant!" and "Vote for the best bartender!" Everyone in the restaurant industry was asking friends to vote. At least those categories were based on food.
But the contest that pushed me over the edge was named "The Hottest Chef."
Not hot as in "rising star" or "making great food." No. Hot as in good looking. Hot as in, "This Category Has Nothing To Do With Food."
Related: High-profile chefs put food first in "Worlds of Flavor"

I couldn't believe who was asking for votes. A lot of respected chefs -- grown men, mostly -- who, in my opinion, could really benefit from putting their noses down and concentrating on their cooking, were asking to be picked as the best looking boy or girl at the food prom.
I was an awkward kid and got over the struggle to be popular at a pretty young age. By the time I was 16 I was working in kitchens with adults, and that provided me with perspective: Cooking is about what you do, not what you look like. Cooking is a craft, and it requires attention and dedication. And just as in any artistic profession, if your goal is fame, you aren't going to achieve your potential.
Related: Mexico City Chef Eduardo Garcia has a different take on 'star chefs.'
These lists: Best New Restaurant, Best Restaurant, Best Chef, Hottest Bartender, Best ... Hottest ... They not only diminish the restaurants and the people working in them, but they cannibalize the authority of the publications that produce them. [aside] Just five years ago, the local paper in Portland, where I own two restaurants, printed a Restaurant Guide that readers could keep all year long. Now it's hard to discern the difference between the annual guide and the monthly "listicles." With so much pressure to create more lists, the public's attention is constantly retrained on the restaurants that are new and "hot," not necessarily the restaurants that are good.
The best dining in any city is often at that place that has existed for years. In Portland, Caffe Mingo has been turning out delicious rustic Italian food for over a decade. They hit the mark in a way that only a restaurant that has honed its craft for years can do. They haven't been on a list in years.
Related: Dragsholm Slot's Claus Henriksen explains why there's a Nordic obsession.
Accolades also interfere with restaurant performance. At my restaurants, Toro Bravo and Tasty N Sons, we have always relied on word of mouth. When we get singled out for what we do, I have a meeting with my staff to prepare for the backlash: diners who will be upset their place has been discovered, diners who will be unhappy with the uptick in wait-times. Of course we have our Restaurant of the Year award on display -- it's in the bathroom.
There are better ways for chefs and restaurants to get attention than to beg their friends to vote for their Hotness online:
Come out swinging! Put everything you can into the craft and service. The people who fill your seats Monday through Thursday are regulars and industry. If you pay attention to craft, they will keep coming.
Spend more time thinking about the best tomato, and less time thinking about the best write-up. Don't ask for coverage before your restaurant is ready for the glare. You can't seek out the public's attention and then complain if you get reviewed "too soon" -- so wait, get it right, and then reach out.
Keep your mind-set on Year 6, not Month 6. If you work on the craft at the start, you might get to Year 6. At that point, think about a cookbook ("The Toro Bravo Cookbook" is coming this fall), but in the meantime, keep some of your powder dry so that you can bring in new customers when you aren't the Next Big Thing.
Photo: Restaurateur John Gorham. Credit: David L. Reamer photography
Zester Daily Soapbox contributor John Gorham is the culinary driver behind iconic Portland restaurants Toro Bravo, Tasty N Sons and the highly anticipated Tasty N Alder. His new book, "The Toro Bravo Cookbook: The Making, Breaking and Riding of a Bull," will be published this fall by McSweeney's.
More on Zester Daily:

» The mystery (and recipe) behind a Chinese New Year treat.
» An alternative to the Montalcino wine controversy.