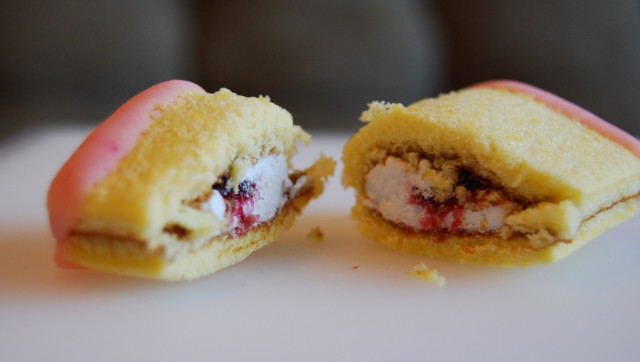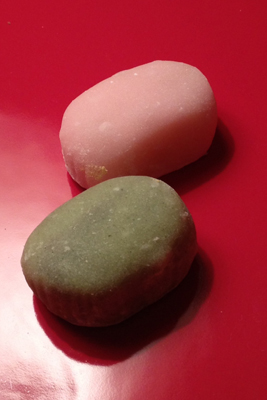 By Evelyn Iritani

If they ever map my DNA I am convinced they will find a gene for omiyage. It will have been passed onto me through my parents, and I'm sure it has found its way into my children's genetic material as well.
Omiyage is the tradition of gift-giving that permeates Japanese culture. Holiday celebrations. Business meetings. Travel abroad. The Japanese are a nation of gift-givers, and their stores are filled with exquisitely wrapped mementos of all shapes and sizes. You can give someone a bottle of expensive liquor, four individually wrapped apples or a beautiful box of mochi or manju, the chewy rice cakes filled with sweet bean paste.
Though I was born in the United States, I was introduced to omiyage through my mother, who grew up in Japan. One of my favorite travel pastimes is scouring an exotic market in search of that unusual "something" that will make someone smile. And I will admit to, upon occasion, cruising the airport kiosks for those last few people on my shopping list.
Related: Japan's wild Kit Kats, and a recipe to remember

The pressure of selecting just the right omiyage can be overwhelming. I remember in the early 1980s trying to help my mother find a special present for her sister in Japan, whom she was going to visit for the first time in many years. [aside] A beautiful silk scarf? A leather bag? Every time we found something we were certain would be perfect, we would see the "Made in Japan" label.
With the spread of globalization, the search for something "Made in the USA" became even more difficult. For years, I packed bags of Starbucks coffee as gifts for friends overseas. That ended when I stumbled across the familiar Starbucks logo on a tiny café in the ancient Forbidden City in Beijing. (That location has since been closed, but China remains one of the Seattle coffee company's fastest-growing markets.)
I have been saved by the explosion of regional food products in America, which has allowed me to merge three of my favorite pursuits: shopping, eating and gift-giving. I've discovered there is no better way to introduce America to the world -- or vice versa -- than to share homegrown delicacies.
My omiyage of choice can now be found at places such as Beyond the Olive in Old Town Pasadena, Calif. The small shop's owners, Chip and Crystal Reibel, have created a wonderful home for some of California's best extra virgin olive oils and vinegars. (I was thrilled to discover that the 60-milliliter sample bottles of their rich fig balsamic vinegar and buttery EVOO Ascolano olive oil could be hand-carried onto an airplane.)
Related: Preserved lemons spice up gift-giving

Before visiting my parents, I often stop at the Fugetsu-Do Sweet Shop in Los Angeles' Little Tokyo, where the Kito family began producing its soft, chewy mochi (rice cakes) and manju (sweet bean-filled rice cakes) in 1903. Though the family was sent to an internment camp in Wyoming during World War II, they returned and rebuilt their pastry shop into one of the community's most beloved businesses.
Thanks to the Internet, I can now send my favorite taste treats anywhere in the world. That includes almost anything from the Pike Place Market in Seattle, where I always pick up packages of Chukar"s chocolate-covered Cabernet Cherries or boxes of the fragrant MarketSpice tea. (I've also successfully packed a frozen salmon on ice into my carry-on bag.)
I was curious what Japanese tourists are taking home from America these days. So I asked Sachiko Yoshimura, chief executive director of the Los Angeles office of the Japan External Trade Organization. Her answer? Apparently young Japanese are filling their suitcases with the branded reusable shopping bags from Trader Joe's and Whole Foods.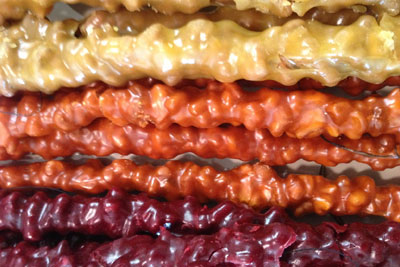 I thought omiyage was a Japanese trait, but I learned otherwise when my friend, Lira, visited from South Ossetia, a tiny country in the southern Caucasus wedged between Russia and Georgia. Her bulging suitcase was filled with gifts, including sacks of spices and freshly shelled walnuts, a regional specialty.
Lira unrolled one carefully wrapped package to reveal a dozen strings of small balls in bright shades of red, orange and yellow. They turned out to be Churchkhela, a traditional sweet made of walnuts dipped in different fruit juice mixtures and hung to dry. I savored them for weeks.
In Lira's world, cooking is done by taste, and ingredients come in handfuls and pinches. So when my husband asked how to use the spices she brought him, Lira's answer was a shrug and a smile. "Sprinkle them on nuts or vegetables," she told the translator. "Roger will know how much is enough."
Related: Making homemade candy is easier than you think

Thanks to a little online sleuthing, I discovered that the spices of the Caucasus are as complicated as their politics. One of Lira's gifts, called Khmeli-Suneli, is a mixture of coriander, dill, basil, bay leaf, marjoram, fenugreek, parsley, safflower or saffron, black pepper, celery, thyme, hyssop, mint and hot pepper.
So now when we roast our vegetables, we throw a little reminder of Lira on top. The best omiyage I could imagine.
Evelyn Iritani, a former economics writer for the Los Angeles Times, won the Pulitzer Prize in 2004 for a series she co-authored on Wal-Mart's impact on the global economy. An interest in Japan, her family's ancestral homeland, was the inspiration for her book, "An Ocean Between Us: The Changing Relationship of Japan and the United States Told in Four Stories from the Life of an American Town." In her spare time, she loves making wickedly rich desserts and herding cows in Montana.
Photos from top:
Mochi from Fugetsu-Do Sweet Shop in Los Angeles' Little Tokyo. Credit: Evelyn Iritani
Churchkhela, a specialty of the Caucasus. Credit: Evelyn Iritani
More from Zester Daily:
» How to custom-craft your own gin

» Rebalancing the new year: what to know about triphala and yoga

» One-egg omelets: How to lighten calories and boost flavor