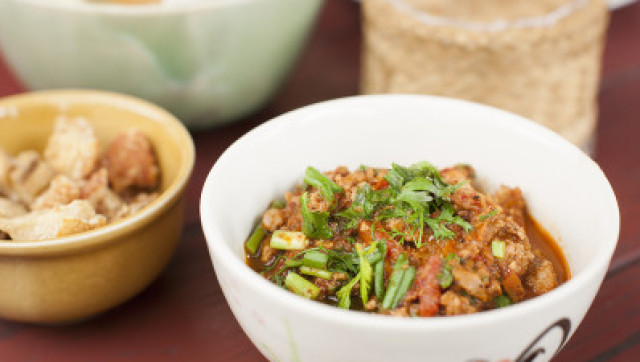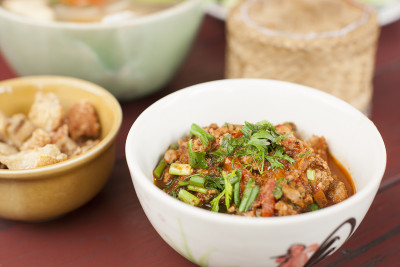 By David Hagerman
and Robyn Eckhardt
Northern Thai food has an in-your-face allure. In the words of northerners themselves, it is kem-kon (concentrated, intense) and rot-jat (strongly flavored).
The northern Thai cook's touchstones are dips known as nam prik ("chili water" is the literal translation), small bowls of concentrated flavor that pair beautifully with the fresh herbs (mint, various basils and cilantro among others) and blanched and uncooked vegetables (fresh and leafy greens such as Chinese mustard and various lettuces, and cucumbers, tart cherry tomatoes and winter squash) that are always presented alongside.
Related: Recipe for Greek guacamole, a happy marriage of chipotle and yogurt
These vegetables and dips are usually served as part of a full meal, but in a non-Thai setting they work well as finger foods to go with drinks (and are a relatively virtuous alternative to chips and dips -- although pork rinds, a beloved snack in pork-obsessed northern Thailand, often make an appearance). The in-your-face flavor-combination dips can also be eaten together as a light meal.
Minced Pork and Tomato Dip (Nam Prik Ong)
This mild nam prik has a flavor and texture reminiscent of Bologna-style ragu. Leftovers are wonderful tossed with wide rice noodles and a handful of scallion greens chopped with Thai basil.
Nam prik ong is usually eaten with pork rinds (rice crackers work well, too) and with blanched, rather than raw, vegetables. Chunks of peeled winter squash (kabocha, butternut, etc.) are a must. Try also wedges of round green cabbage, cauliflower, long beans, carrots and Chinese greens like baby bok choy and gai lan (Chinese broccoli), their leaves squeezed dry.
Ingredients
7 dried red chilies
3 shallots, roughly chopped (about 2 ounces)
2 teaspoons Thai or Malaysian shrimp paste
1 tablespoon vegetable oil
5 plump cloves garlic, finely chopped
4 tablespoons ground pork
2 cups roughly chopped tomatoes
½ cup chicken or pork broth
Fish sauce, to taste
Directions
1. Toast the chilies in a dry skillet over medium heat until darkened but not burned. Allow to cool and place in a mortar or the bowl of a blender.
2. Add the shallots, garlic and shrimp paste to the chilies and pound or blend to a rough paste (if using blender, add up to 1 tablespoon water to aid processing).
3. Heat a small skillet (preferably non-stick) over medium heat and add the oil. Swirl to coat the bottom of the pan. Add the garlic and sauté until it begins to change color. Add the chile-shallot-shrimp paste mixture and cook, stirring, until the raw smell of the shrimp paste dissipates, about 3 minutes.
4. Add the chopped pork and, breaking it up with a fork, cook just until the pink color disappears.
5. Add the tomatoes and cook, stirring, until they begin to break up, about 2 minutes. Add the broth, lower the heat to medium-low, and let the mixture simmer until the broth is nearly evaporated, leaving a paste of medium thickness.
6. Taste and adjust for salt, if necessary, with fish sauce, adding ¼ tsp at a time.
7. Transfer the nam prik to a bowl, let cool, and serve at room temperature with a generous platter of vegetables for dipping.
Red-Eye Smoked Fish and Chili Dip (Nam prik dta daeng)
Dta daeng means "red eyes," which is what you might have after eating this super-spicy dip. Smoked mackerel is a fine substitute for the smoked river fish sold in northern Thai markets; feel free to experiment with hot-smoked salmon or any other smoked fish. Traditionally the smoked fish, shallots and garlic would be grilled, but these days northern Thai cooks are happy to use the microwave. The number of chilies called for results in an authentically fiery dish. Reduce by up to two-thirds for a much milder dip; you could also remove the seeds.
Serve this dip with any combination of fresh Asian long beans (or green beans), sliced cucumber, napa cabbage and Chinese mustard leaves, wing beans, and herbs such as mint, Thai or purple basil, sawtooth herb and Vietnamese mint. Leftovers are great stirred into scrambled eggs.
Ingredients
4 ounces smoked mackerel, bones removed
5 unpeeled shallots
8 unpeeled garlic cloves
25 whole Thai dried red chilies, stemmed
2 medium tomatoes, diced
1 tablespoon Thai or Malaysian shrimp paste
½ teaspoon cooking oil
½ cup water
Directions
1. Remove any skin from the fish. Cut the fish into chunks and microwave until its moisture is rendered and it has begun to crisp, about 3-5 minutes depending on the size of the chunks and the fattiness of the fish. Set aside to cool.
2. Place garlic cloves on plate, cover with microwave-safe plastic wrap, and microwave till very soft, 2-3 minutes. Repeat with the shallots, which will take 4-5 minutes. Set aside to cool, then peel.
3. Toast the chilies in a skillet over medium heat until they darken, stirring constantly so they don't burn. Remove from the heat and set aside to cool.
4. Pound the fish and chilies in a mortar or chop in a food processor to rough puree. Add the shallots and garlic and pound or process to a paste.
5. Place a (preferably nonstick) skillet over medium heat. Add the oil, heat for a few seconds, and then add the tomatoes and the shrimp paste. Cook, stirring, for 3 minutes. Add the water and continue to cook, stirring and mashing the tomatoes with the back of your spatula or spoon, until the moisture has almost evaporated, about 3 more minutes.
6. Add the chile-shallot-garlic-fish paste and cook, stirring, until the ammonia smell of the shrimp paste has dissipated and the combination paste has started to darken and take on an oily sheen, 4-5 minutes. There should be no moisture left in the pan.
7. Remove from the heat and set aside to cool. Serve at room temperature.
Related: Thai recipe for roasted eggplant and green chili dip
Top photo: Nam prik ong, a northern Thai style "dip" made of tomato and ground pork often served with pork rinds (bowl left). Credit: David Hagerman
Zester Daily contributor David Hagerman shoots for the New York Times, Travel+Leisure and Saveur, among other publications. To view more of his photos, go to davidhagerman.photoshelter.com. Robyn Eckhardt is a food and travel journalist based in Penang, Malaysia. She also is a contributor to Travel+Leisure Southeast Asia and has been published in Saveur, the New York Times and Wall Street Journal Asia.
More from Zester Daily:
» What Thai rum has a French twist?
» What is the best Middle Eastern dip for game time?
» How fair trade coffee has affected Thai village life.