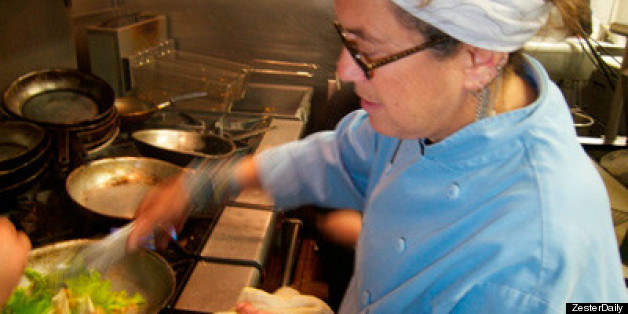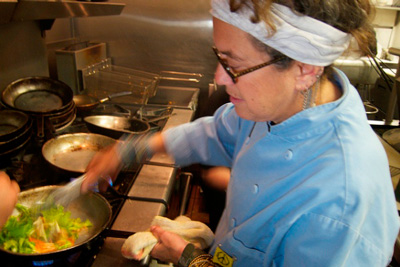 By David Latt
Susan Feniger, one of Los Angeles' best-known restaurateurs, is always planning her next food trip, as soon as she comes home. Feniger's restaurant Street, which opened in 2009, is inspired by the global street-food scene, but her explorations are as much about experiencing the lives people lead as they are about finding travel-inspired recipes.
Talking about a trip to the Turkish countryside, her eyes brightened as she described going with a friend to meet a farmer he knew. A walk into the fields up from the river led them to a house made of sticks with a cow in front. Inside, the kitchen had a fire pit in the middle of the room.
Related: Cookbook author Deborah Madison explains the secret to vegetables.
Sitting on the floor for their meal, Feniger watched with pleasure as the farmer's wife first made tahini by grinding sesame seeds and then baked the tahini into the bread for their midday meal. The bread was delicious, as was the experience.
In her kitchen at Street, Feniger demonstrated one of the popular dishes on the menu, an easy-to-make dish with lots of flavor: Brussels sprouts flavored with goat cheese, apples and hazelnuts, topped with an Italian version of a picada without nuts.
When Feniger and Mary Sue Milliken, her longtime cookbook collaborator and fellow chef, were doing research for the dishes they would serve at their second restaurant, Border Grill, they traveled extensively in Mexico. She quickly discovered that the food she loved was the food cooked by street vendors and in people's home.
Related: Chinese brussels sprouts with satay sauce.
As she explained, When you go into people's homes "they're so happy you're there eating their food. People took us into their homes because they wanted us to taste their food. You didn't get that if you go to restaurants. When you are on the street and you are in a culture that doesn't usually see [outsiders], they really like that [you are willing to try their food]."
To Feniger, eating the food prepared by people for their everyday lives is how you see the heart of a country. Over the years she has traveled around the world, pursuing her love of culture and eating.
"When I travel, if I don't see a historical site, I'm ok. The much more rewarding experiences are the ones with people in their kitchens. My memories when I travel are ones with people, not with the monuments."
Related: The best way to cook brassica vegetables.
On a 14-day trip, crisscrossing India from Delhi to Mumbai to Goa to Kerala (her favorite), Feniger ate on the street or in people's homes every day. ... When she was in Shanghai she was taken by a local on a food tour that began at 4 a.m. so she could watch a man make savory fresh soy milk sticky rice doughnuts cooked in a wok. By 8 a.m., he had finished his breakfast service so he cleaned up and left, allowing a shoe repairman to take over the stall.
The menu at Street cherry-picks taste treats she ate during her travels over several decades.
Recently, Feniger revamped the Street menu and gently moved in the direction of vegetarianism, not for policy reasons but because the street food she loves tends to feature produce over animal products.
Related: Brussels sprouts salad with apples, walnuts and maple syrup.
Hence, the Brussels sprouts dish. Her picada is Italian and illustrates Feniger's belief that keeping it simple is best. Take a run at flavor, she suggests, letting the ingredients lead you and everyone will be happy.
Brussels Sprouts with Goat Cheese, Apples and Hazelnuts
Video: Watch Susan Feniger prepare sautéed Brussels sprouts in her kitchen at Street
Cooked quickly, the Brussels sprouts should be crunchy so the dish tastes fresh and inviting. The contrast of savory Brussels sprouts, sweet apples and tart-creamy goat cheese, together with accents of the picada make the dish delicious on its own or as a side dish with a protein such as sautéed tofu, fried chicken, grilled steak or baked salmon.
Serves 4
Ingredients
For the sauté:
½ cup raw hazelnuts
1½ tablespoons olive oil
6 cups whole Brussels sprouts, shaved thinly on a mandolin or with a knife
2 medium sized Granny Smith apples, cored and cut into a small dice
Juice of 1 lemon
6 ounces soft goat cheese, broken into small pieces
1 teaspoon kosher salt
For the picada:
⅛ cup extra virgin olive oil
2 tablespoons minced raw garlic
2 cups bread crumbs
Salt to taste
zest of 3 lemons
1 bunch Italian parsley, finely chopped
Directions
For the sauté:
1. Preheat oven to 350 F.
2. Spread the hazelnuts out on a cookie sheet and toast them for 5 to 10 minutes until they are roasted and slightly browned.
3. Remove from heat and pour onto a clean dish towel.
4. Fold the dish towel over the toasted hazelnuts and roll lightly to remove the skins. Discard the skins.
5. Place the hazelnuts on a cutting board and chop into small pieces, or alternately pulse in a food processor for a brief period of time. Set aside.
6. In a large sauté pan, heat the oil on medium-high heat.
7. Add the Brussels sprouts, apples and salt, and cook, stirring occasionally, until the Brussels sprouts are slightly browned on the edges.
8. Add the hazelnuts, lemon juice and goat cheese.
9. Toss together and turn off heat.
For the picada:
10. In a large sauté pan heat the oil, but do not let it smoke.
11. Add the garlic and stir quickly to release its flavors, but do not brown.
12. As the garlic starts to color, add the bread crumbs and salt to taste.
13. Stir well to combine and toast in the oil (about 5 minutes).
14. When the bread crumbs are browned, remove from heat and place in a mixing bowl.
15. Add the lemon zest and the parsley while the bread is still slightly warm.
16. Toss and then spread out on a cookie sheet to cool to room temperature. Store in an airtight container before using.
17. Sprinkle on top of the Brussels sprouts before serving.
Top photo: Susan Feniger in her kitchen at Street, demonstrating how to make Brussels sprouts with goat cheese, apples and hazelnuts. Credit: David Latt
More from Zester Daily:
» Elin McCoy's wine of the week: a Pinot Noir that delights.
» Canning, drying and pickling are easy, smart and sustainable. Here's how.
» Find chefs' favorite hole-in-the-wall restaurants on this app.