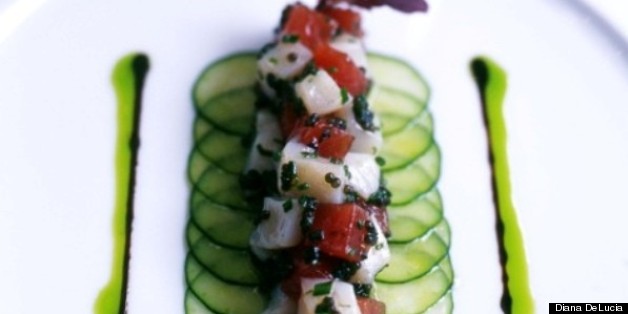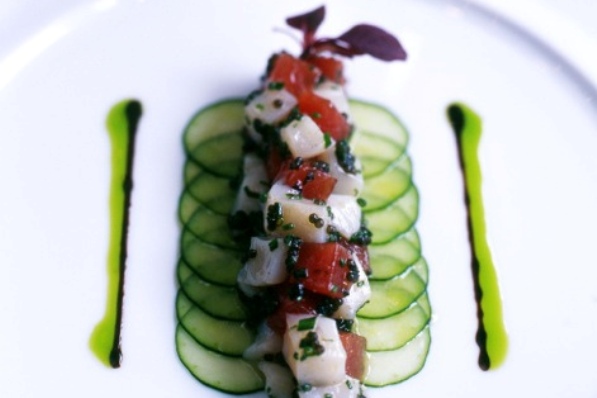 By David Latt
Looking ahead to hot days when meals must be light and flavorful, home cooks and restaurant chefs alike want light and flavorful dishes to put on the table. One dish perfect for the summer is tuna tartare, delicately seasoned and plated to satisfy any gourmand's need for luxurious food, beautifully presented.
Related: Best tips for preparing healthy seafood.
Gabriel Kreuther, executive chef at The Modern, the fine dining restaurant at New York City's Museum of Modern Art is a master at preparing beautifully delicious comfort food. With a dining room view of MoMA's sculpture garden, Chef Kreuther lets his food take its cue from the art. His plates are mini-sculptures, animated with color, contrasts and meticulous detailing.
Related: What's behind Chilean salmon farming's comeback?
Tartare, like sashimi, is only as good as its ingredients and those must be as fresh as possible. Quality seafood purveyors are a good source of the high quality yellowfin tuna and diver scallops required for the recipe.
Adding to the quality of the seafood is the visual design. For Kreuther, the extra effort it takes to make a visually striking plate gives added pleasure to a dish.
Tartare of Yellowfin Tuna and Diver Scallops Seasoned with American Caviar
Serves 6
For the tartare:
12 ounces yellow fin tuna, sushi grade, medium dice (½-inch cubes)
12 ounces diver scallops (8 to 10 of the freshest, highest quality, firm), medium dice (½-inch cubes)
2 tablespoons hazelnut oil
3 tablespoons olive oil
3 ounces American Caviar
3 tablespoons chives, finely chopped
1 lemon, juiced
Salt and pepper, to taste
1 cucumber, not too thick, preferably seedless, unpeeled
2 tablespoons aged balsamic vinegar (or reduction of regular balsamic vinegar made by reducing 8 tablespoons over a low flame), as needed
Baby greens or arugula for garnish
For the chive oil:
Chives, leftover parts from above chopped portion
4 tablespoons grapeseed oil
Directions
To prepare the chive oil:
1. Blend the chives and oil in a blender. Strain the mixture and reserve in a squeeze bottle.
To prepare the seafood:
1. Dice the tuna into ½-inch cubes. Place into a bowl, cover and reserve in the refrigerator.
2. Dice the scallops into similarly sized ½-inch cubes. Place into a separate bowl, cover and also refrigerate.
To prepare the bed of cucumber:
1. Wash the cucumber and pat it dry. Slice it very thinly using a Japanese mandoline slicer for better precision or if unavailable, use a very sharp knife.
2. Season the slices with salt, pepper and a bit of olive oil and arrange the slices on a chilled plate in 2 overlapping columns (6 slices each, arranged like shingles on a roof) down the center of the plate. Refrigerate until ready to plate the dish.
To prepare the tartare mixture:
1. Combine the tuna and scallops in one bowl and add the chopped chives, hazelnut oil, olive oil and caviar.
2. Season with salt and pepper and mix all the ingredients together gently. On the final stir, add some lemon juice to taste.
Note: Do not use too much lemon juice, as it will overpower the dish.
To plate the dish:
1. Place several spoonfuls of the tartare mixture along the length of the 2 columns of cucumber, down the center, leaving some of the outer edge of cucumbers to be visible.
2. Season the baby greens with some of the remaining lemon juice and olive oil.
3. Spike one end of the tartare with a few leaves of the seasoned greens.
4. Finally, using the aged balsamic vinegar (or reduced balsamic vinegar) and the chive oil in 2 separate squeeze bottles, make 2 straight lines, on either side of the columns of cucumber (parallel to and approximately ½ inch away from the cucumbers.)
Top photo: Tartare of yellowfin tuna and diver scallops seasoned with American caviar. Credit: Diana DeLucia
Zester Daily contributor David Latt is a television writer/producer with a passion for food. His latest book is "10 Delicious Holiday Recipes."
More from Zester Daily:
» A taste of Naples in 12 minutes flat.
» French travel tip: Vive la brotherhoods of blood sausage! And stew!
» Which Chilean "natural" wines have a French pedigree?
» Three essential kitchen skills every home cook should know.
» Cut food stamps? A food writer knows what's wrong with the Farm Bill.