The annual Breeder's Cup World Championship horse racing was held at the Santa Anita Park racetrack in California on October 30 and 31st this year.
The prestigious horse racing event teamed with Gavin Keilly's event production company GBK to host a celebrity gift lounge at the Langham Huntington hotel in Pasadena, CA.
With the celebrations surrounding the Breeder's Cup, and it being just weeks away from the Thanksgiving holidays, there was no more useful and beautiful item at the gifting suite than SPARQ Home's soapstone housewares.
Visitors received SPARQ's hand-crafted soapstone cooking and appetizer trays and vodka shooter sets. There were even cheese serving plates carved in the shape of the Breeder's Cup logo.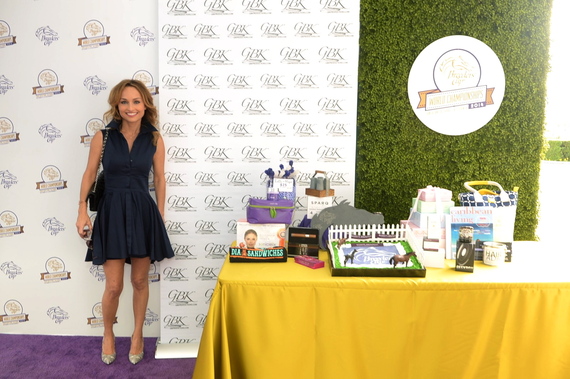 Giada DeLaurentis at the Breeder's Cup Gift Lounge.

On the beauty front Michael Todd True Organics handed out anti-microbial sonic skin-care brushes. EMK Beverly Hills gave out botanical skincare products, which use plant placenta in its line.
Grande Naturals, which promotes longer and thicker eyelashes, brows and hair, gave out two-packs of their mascara and lash enhancing serum.
There was plenty to eat including sandwiches and deserts provided by Ike's Love and Sandwiches, Barry's Gourmet Brownies and Lolli and Pops candy.
Attendees also received a wireless speaker by Geekbox that functions as mini jukebox. It allows the user to stream music in several ways including via Bluetooth, audio jack or a provided SD card that supports up to 32GB of storage. The built-in microphone can also turn the Geekbox in to a wireless speakerphone! At the suite, the Geekbox came with a customized skin in honor of the Breeder's Cup.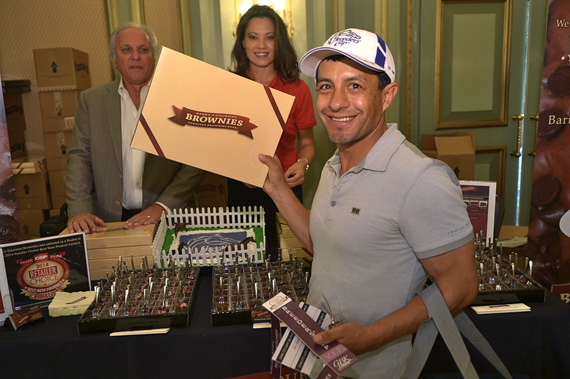 A jockey pics up good at the Breeder's Cup Gift Lounge.