With the annual ESPY Awards held earlier this week to honor athletic achievement, the day before on July 16th saw athletes and celebrities attend GBK's PRE-AWARDS LOUNGE HONORING THE 2013 ESPY AWARDS NOMINEES AND PRESENTERS held at the Andaz Hotel in West Hollywood.
The suite, produced by Gavin Keilly's GBK Productions, was an athletes and sports lover's dream beginning with The Marena Group -- a manufacturer of compression outer garment -- who gifted from its newest Athletics8 unisex line of workout gear that's designed to improve performance and reduce soreness.
Sports development product company SKLZ gave out indoor basketball hoops and its Gold Flex warm-up and tempo training aid to improve a golf swing. Licensing apparel company JH Design Group let guest choose jackets and hoodies representing various team from the NBA, NASCAR and MLB among others.
Guests were able to take home gel covered memory foam pillows from Technogel Sleeping. The pampering continued as Sparkling Hill Resort in British Columbia gifted a 3 night Couples Escape to its Swarovski crystal encrusted facility.
Bands For Arms Bracelets gave out packs of bracelets made from donated military uniforms from all military branches. Military service members and their dependents make the bracelets, while 50% of the sale price is returned to military nonprofit organizations to benefit our military and bring awareness to our heroes.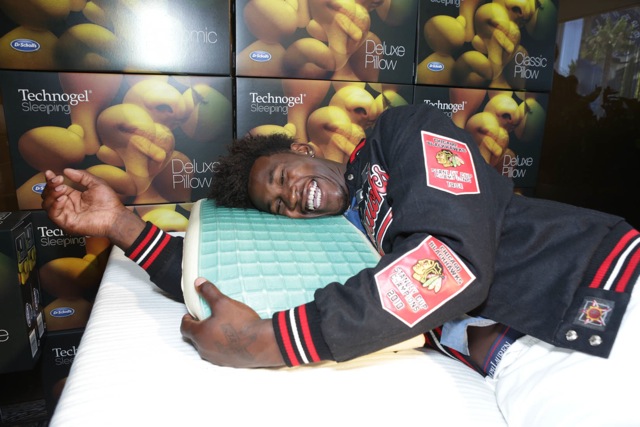 San Fransisco 49er's Aldon Smith wears a jacket by JH Design Group while resting on a mattress and pillow by Technogel Sleeping.
MHL gifted smartphone docking stations, Bluetooth game controllers and other tech devices, while mobile car detailing company Miracle Details handed out gift certificates to V.I.P. detailing.
Other products included interchangeable watches from Fly Watches, Wild Soul Sunglasses, protein-based powdered meal replacement from Nutrition53, t-shirts from iLinks (makers of the 'smart' golf club) and Fruit of the Loom, the latter which gifted from their newest Big and Tall collection.
Guests noshed on sandwiches from Ike's Love & Sandwiches, and tacos from Jalisco's Mobile Taco Grill. Bare Snacks had healthy baked apple chips while Chambord Premium Spirits served up Chambord flavored vodka.
The event continued in to the evening, which included a poker tournament with prizes such as a three-night stay at the St. Regis Princeville in Hawaii and a $8000 watch from Jason of Beverly Hills.
One hundred per cent of the poker tournament proceeds went to charities including the Los Angeles Lakers Youth Foundation, Mama Sarah Obama Foundation, the Model Citizen Fund and the Giving Back Fund.
PHOTO GALLERY
ESPY Awards