Oliver Stone's Savages became available on DVD today with a Blu-ray combo pack that also includes UltraViolet, DVD and Digital copy.
The film, based on Don Winslow's novel, is about two best friends (played by Taylor Kitsch and Aaron Johnson) whose marijuana business attracts the attention of a Mexican Baja Cartel. When the boys refuse to work with the cartel, the girl they love -- played by Blake Lively -- is captured by the Mexican drug lords, which forces the two friends to play ball. Salma Hayek, John Travolta and Benicio Del Toro also star.
The night before the presidential election, Stone and Del Toro sat down for an intimate dinner at the Four Season's Culina restaurant in Beverly Hills to talk about the film's DVD release, which also includes an unrated edition, a deleted scenes section and five-part 'Making Of' that is chock full of behind-the-scenes footage and cast interviews.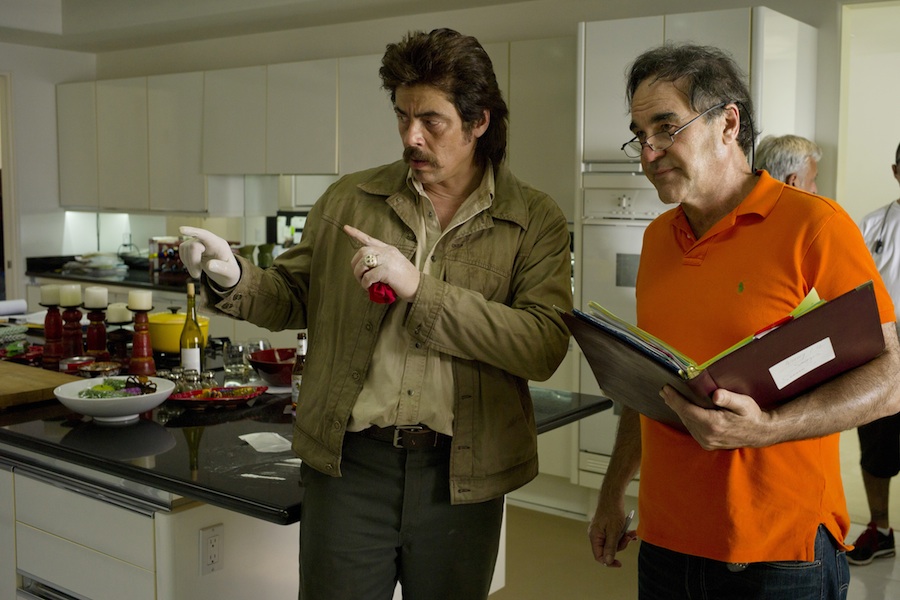 The conversation veered all over the place. Both filmmaker and actor said they were voting for Obama, while Stone told stories at the dinner table of meeting both George W. Bush and Barack Obama prior to them being elected to the White House. ("They never meet me after they win," joked Stone).
With plenty of celebs endorsing Obama in high-profile ways like George Clooney, Jay-Z and Beyonce, Del Toro said he's not the typical go-to guy for such events.
"I think that the guy who played Che Guevara in a movie may not be the guy you want to have in New Mexico trying to get the votes for the Democrats," he deadpanned.
Conversation, naturally, turned to films. With the new James Bond movie, Skyfall, opening that upcoming weekend, Del Toro recalled his experience working on the 1989 film License To Kill starring Timothy Dalton where he wore gold teeth.
"I really thought that I'd made it," Del Toro recalled. "I think maybe I cleared $20,000 and I went and bought a painting for $8,000. I though I was going to be the next Bond. I didn't work again for about a year and a half or two. But the experience was fantastic."
(He still has that painting, in case you're wondering.)
On the movie front, Stone raved about long-lasting quality of Blu-ray but didn't trust cloud computing. He loved this summers' The Best Exotic Marigold Hotel, but thought The Dark Knight Returns was "completely overrated." He felt Bernardo Bertolucci "is totally underestimated in this country" and said the four and half years he's put in to his new Showtime series Untold History of the United States has "detoured" him from his film career, or at least slowed him down somewhat. "But I'll be back," he promised.
There was much to discuss about Savages. Del Toro said the idea for the mustache his character wore came from "a gardener that works on my street that has that kind of a mustache."
Stone said out of all the characters in the film, Kitsch's Chon "is the least vulnerable and I wish I had worked on that vulnerability a bit more."
He explained that Savages also marked the return of Travolta to the movie industry after the actor took some time off after the death of this son.
"This was his first movie and he was very excited and he brought that enthusiasm to the set every time," said Stone. "I got him to play the way he looks as opposed to the way he disguises himself (with a hairpiece). So essentially that's his real look. And I love it."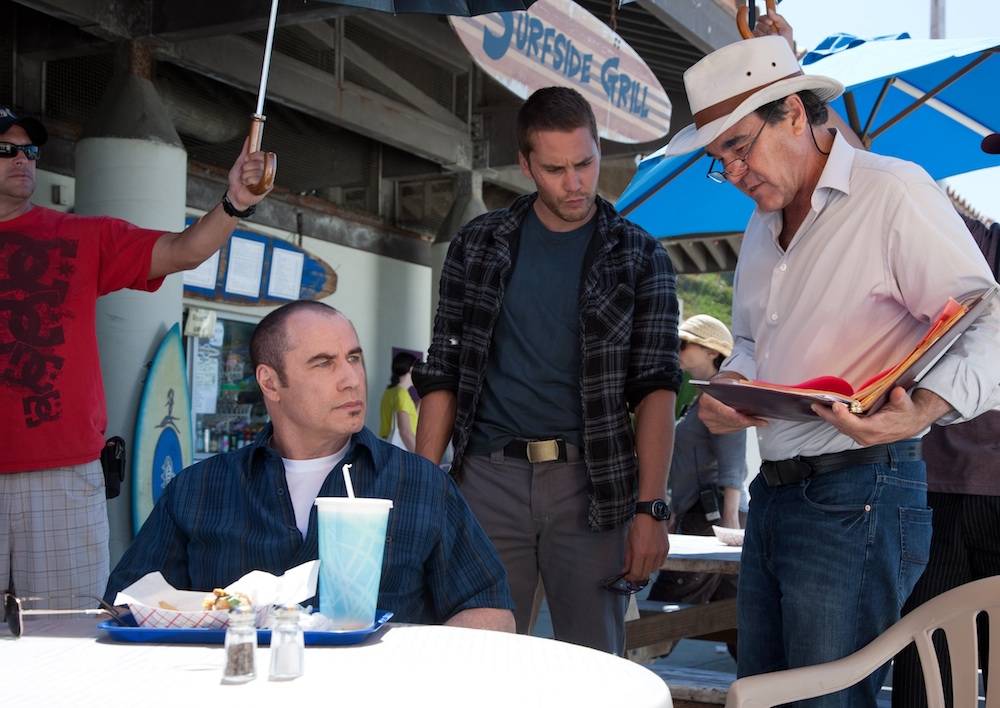 The film's subject of drugs and drug dealing prompted Stone to speak about America's War on Drugs:
"I see nutcases joining the DEA who are militarily inclined. [Retired United States Army general Barry] McCaffrey was one of the original DEA chiefs. The guy would be in Iraq, in Afghanistan; he'd be fighting Russians in Russia. It's that mentality that leads the DEA, which is take the war anywhere where we can get a hold of the drug guys. Well, the drugs are part of the endemic problem of poverty. (They are) part of a culture and part of a need. Americans need drugs and they want them and they'll pay for them. So who's kidding whom here? Why do we have to go intervene in foreign countries? Let's look at the drug war as more of a political thing... a political tool. It becomes a form of espionage. You investigate their military, their police, you invoke them, your provoke them to do more. You become involved, as we did in every country in the world. That's the way we got involved in Vietnam. It's the same old story over and over again, whether it's drugs or terrorists or communism.
And that war, of course, lead to a conversation about the prison system, and how the United States has the highest documented incarceration rate in the world -- $2.26 million as of 2010 -- with statistics showing that more that 70 percent of the prison population is made up of non-whites.
"In federal, 50 percent is drug related. This is outrageous," Stone said. "It discriminates against drugs, which is essentially a non-violent crime and (discriminates against) class and race. If you're a Texas teenager smoking dope on a date one night and all of a sudden you're arrested by some cop, you're life is wrecked. It's insane."
Stone also felt that those who benefit from drug arrest are those working in the prison system because "all of a sudden it becomes job security."
He continued:
"You can no longer reform the prison system because they have no interest in reform. They want to have capacity, which is part of the problem leading to private prisons. Private prisons promise the state that they will provide enough occupancy in these prisons to make money. If they can make money they're happy, the state gets rid of their problem of running the prison. One thing leads to the other. It's a sick system."