Last weekend's Emmy Awards brought with it a record number of gifting suites leading up the big day. Nominees, presenters and attendees had the opportunity to meet vendors behind the products, learn about the items, take them home to sample all while enabling various charities to continue making a difference in lives of others.
THE PRESENTERS GIFT LOUNGE held backstage at the Nokia Theater where the Emmys were telecast live.
Celebs received the new TiVo Premiere 4 DVR that records up to four shows simultaneously, gift certificates for six body sculpting Zerona treatments and Black & Decker's new Platinum hand vacuums.
New Balance offered up their latest off-road running shoes, the Minimus 1010, Kipling gave out their Pelusa Tote bag and New Era Cap Co. let stars choose from their selection of headwear.
Visitors were also treated to on-the-spot CND Shellac Manicures and received a one-year supply of Emergen-C multivitamin supplement drink mix, Crunch gym memberships, jeans from Paper Denim and Cloth and watches from Aquaswiss. Bertolli Sauces and Frozen Meals made a $100,000 donation to benefit Children's Hospital Los Angeles and Dream Street Foundation on behalf of all the stars who stopped by the gift lounge.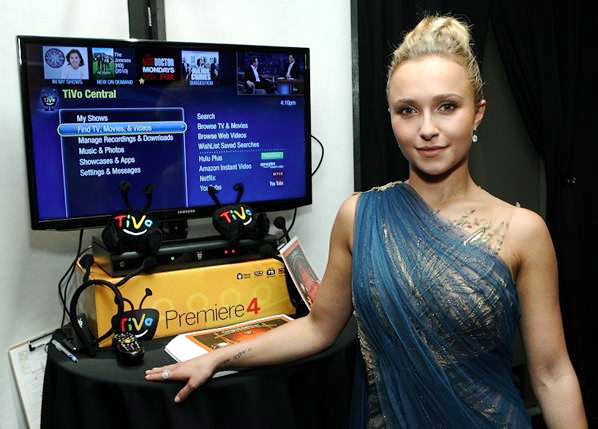 Haden Panettiere with the new TiVo Premiere 4 DVR
GBK GIFT LOUNGE IN HONOR OF THE 2012 EMMY AWARDS at the W Hollywood Hotel:
Items included Foster Grant sunglasses, a month of personal training from Mansion Fitness, complimentary airport transportation from Integrated Transportation Services, all-natural dog and cat food from Nulo Pet Products and hair dryers and flat irons from Brazilian Heat.
Psychic Friends Network was on hand with their Master Psychics live and in person to do on-the-spot tarot card readings.
For kids, European toy importer Beanpatch & Co., had French Baghera pedal cars and Denmark's Franck & Fischer plush monkeys. Toy State had 007 Secret Agent vehicles with built in sound, lights and hidden weapons.
Artists collective The Artisan Group gifted from their collection of handcrafted gifts including pet toys from Wags and Wiggles, sock monkey iPad cozies form BuggyD Creations, topaz and sterling silver earrings by Alison Julien Collection, body scrubs and soaps from Bidwell Botanicals among numerous others.
One of the events' charity recipients, Best Friends Animal Society, was handing out NKLA (No-Kill Los Angeles) merchandise including hats, t-shirts, totes and water bottles. The NKLA coalition is dedicated to ending the killing of healthy and treatable animals in L.A. shelters.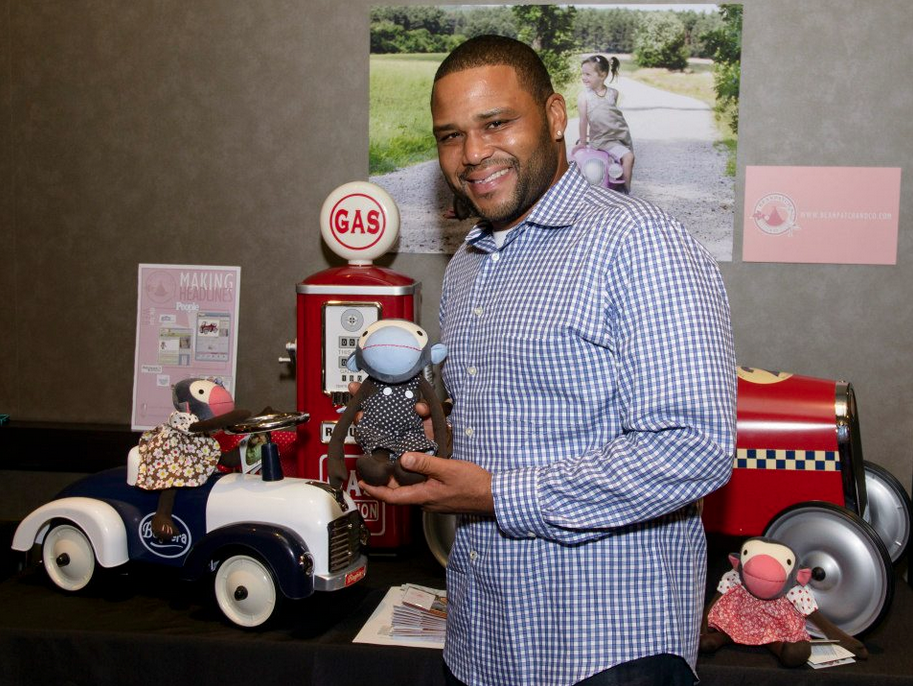 Anthony Anderson with pedal cars and monkeys from Beanpatch & Co.
SECRET ROOM EVENTS' SPCA RED CARPET LUXURY LOUNGE at the SLS Hotel in Los Angeles:
One-of-kind gifts included knives from the Cheese Knife, made from a material that's designed to keep the cheese -- and cake, butter, etc. -- on the plate, not the knife; washable, reusable bamboo paper towels from Bambooee; undergarments from Party Panty that come with a hidden zippered pocket.
Since the event benefited the Society for the Prevention of Cruelty to Animals, there were many animal-related gifts such as paw-shaped training pads from Hollywood Pads, all-natural dog shampoo from Rosie & Friends, dental flossing system from Doggie Dental AID, fresh cooked frozen dog food by Frenchie's Kitchen and PoopPac dog walking waste cases and bag dispensers.
Beauty products included face creams by Lynex, Marrakesh haircare by Earthly Body, make-up by Je Beau International and Couleur Caramel and teeth whitening pens from Smile Sciences. Plus New Beauty Magazine handed out their signature Test tubes chock full of beauty products.
Guests left with an Alice's Tapestry's tote bag filled with such products as colorful active wear by B Skinz, mineral make-up and brushes from ME Mineral Essence, beaded serving cutlery from La-Di-Da Designs and the girls' night edition of the adult party game "What?"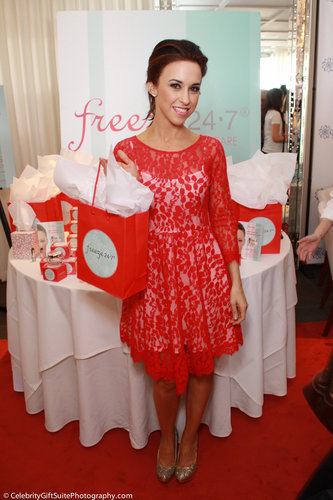 Lacey Chabert picks up some beauty products from Freeze 24/7
WOW CREATIONS LIFESTYLE GIFTING SUITE at the Luxe Hotel in Beverly Hills
There were several unique and items including dual drinking bottles held together by a chilled ice pack, keeping both sides cold, with all three parts removable from one another; clothing tops from Lovesque that transition from day to night, casual to dressy; and coconut powder from Oh Coco that mixes with water for an instant coconut water beverage on-the-go.
Other goodies included skincare from Tata Harper, jewelry from B. Foxy, bikinis by Paradise Bikini and $100 gift certificate towards services at Dr. Kathy Gohar's Versailles Cosmetic and Laser Center.
Upon leaving, guests left with additional take-away goodies including a bottle of Matarromera Crianza 2008 from Spain and jars of coconut peanut butter from Hawaii-based North Shore Goodies.
Emmy nominee Mayam Bialik with Wow Creations' Matt and Mark Harris
DORIS BERGMAN'S THIRD ANNUAL PRIME TIME EMMY STYLE LOUNGE & PARTY at Cafe La Boheme in West Hollywood.
Fun items included lightweight stereo Bluetooth speakers by Qmadix, chocolate infused wine from The Chocolate Shop, cushioned, shock-absorbing flip-flops by Terox.
Radar Watches handed out interchangeable watch faces and bands with vibrant colors that allow users to mix and match styles, while Hillel Rzepka and his Handmade Hearts Galley & Studio gave out mini glass hearts.
Established brands launched new lines at the suite. Prana Spaceuticals introduced its mushroom-based line of skincare including the Reishi mushroom serum. Teeth whitening system Whitening Lightning debuted its new eyebrow color palette Brow Bar to Go, which includes a wax palette to seal in color.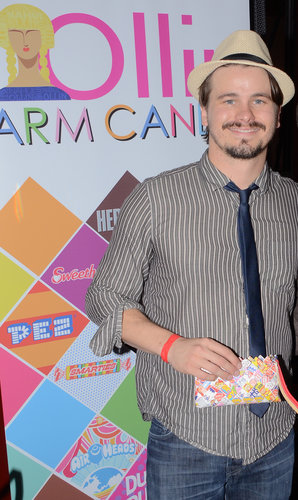 Emmy nominee Jason Ritter with Ollin Arm Candy
DEBBIE DURKIN'S 6TH ANNUAL ECO EMMYS CELEBRITY CHATEAU held at a private residence in Hancock Park.
DNA customized nutrients company geneMe handed out DNA kits whose results will then be assessed to create nutritional supplements formulated especially for that individual. Loved Line had pet ID tags with "barkcodes" that can be scanned with a smartphone to identify lost pets.
Other items included kid's designer wear from KC Kidscorner, tobacco free electronic cigarettes from AER and a collection self-help hypnosis CDs featuring hypnotist John Cerbone from Trance Master Productions Inc.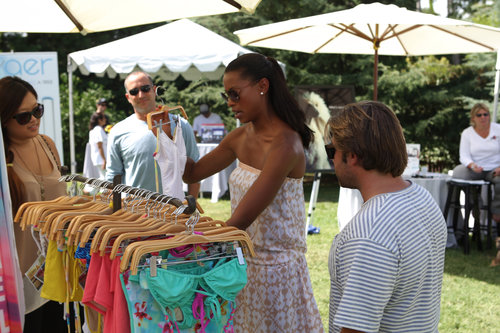 Major Crimes' actress Kearran Giovanni browses through eco-friendly swimsuits by Odina
THE BOOM BOOM ROOM LUXURY PARENTING PRODUCTS SUITE at the Hollywood Roosevelt Hotel in Hollywood.
For the teeny tiny ones, there was the Food Feeder by Kidsme, a safe way for babies to enjoy real food at an early age; bottle nipples from Refresh-a-Baby that converts a regular water bottle in to a baby bottle; and baby blankets from Two Hippos.
There was also Teething Bling - jewelry for mom made out of the same material as teething toys so its safe for babies who like to tug on jewelry.
Other items included clothing by Luxe Baby and Eva & Estela, snowflake making kits, handprint Christmas tree ornaments and hand painted piggy banks from Child To Cherish. Grown-up items included energy shots from Street King and hair products by Use Me.
Dads or dads-to-be were not ignored. Daddy Scrubs handed out hospital scrubs for dads, along with men's and baby apparel emblazoned with such logos as "I'm the Daddy" and "All-American Dad." To top it off, guests received $50 worth of "Daddy Bucks" to redeem from their website.
PHOTO GALLERY
2012 Emmy Awards Gifting Suite